Haunted House, Pumpkin Rolls Are Tradition for Polk State Physical Therapist Assistant Program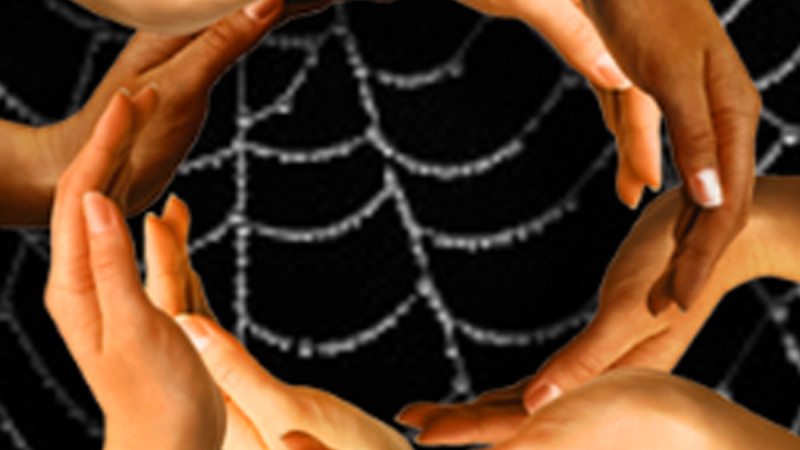 Eighteen years ago, seeking to raise funds for student activities, Polk State's Physical Therapist Assistant Program assembled a modest haunted house in the portable building that once served as its headquarters.
Students dimmed the lights, jumped out from behind doors, and planted less-than-scary tombstones in the ground — think, "Rest in Pieces."
Little did those students know, they were beginning a tradition for the Program, one that all these years later is still bonding PTA students and, in ways unseen to their spooked patrons, preparing them for the professional world.
"You'd be surprised at the difference scaring little children can make," said student and class secretary Andrea Williams.
Through the years, as that portable was replaced by a permanent building on Polk State's Winter Haven campus, the PTA Haunted House has made huge theatrical progress, making it one of the most popular draws at the College's annual FallFest. This year's FallFest will be from 9 a.m. to 3 p.m. on Oct. 20 on the College's Winter Haven campus, 999 Ave. H N.E.
Now far beyond cutesy tombstones, the PTA Haunted House is an all-hands-on-deck effort. In fact, the PTA program requires every student to participate either in the preparation or execution of the Haunted House, or in the baking or selling of pumpkin rolls, the official pastry of the PTA Program.
Planning for the Haunted House begins three months in advance, when second-year students have the privilege of determining the event's theme. Second-year students, in addition to choosing the theme, take the lead in all aspects of the Haunted House, setting the example for students following in their footsteps.
This year, the theme is Haunted Circus, as all the second-year students agreed clowns are really quite scary.
With a theme in place, students spend weeks assembling just the right props, from fog machines to strobe lights to equipment for demented surgical reenactments.
Current students, not wanting to sacrifice the element of surprise, guard details of the Haunted Circus. What they do allow, however, is chilling: Students will ride tricycles and wear maniacal masks, recreating "Billy the Jigsaw Puppet" scenes from the "Saw" movies.
Several days before FallFest, PTA students also bake dozens of those pumpkin rolls.
The PTA students once had a general bake sale at FallFest, but year after year they had too many leftover muffins and cupcakes. Four years ago, PTA Program Director Nelson Marquez advised the students to select and prepare one item that would perfectly fit the autumn-infused atmosphere of FallFest.
The students settled on the pumpkin roll, adopting a recipe provided by Rachelle Thompson, who graduated in 2009 and is now working as a PTA in Richmond, Va.
Thompson originally baked the pumpkin rolls for the PTA bake sale in 2007, as her contribution since her job at the time prevented her from participating in the Haunted House. Pumpkin rolls are a favorite in her own family, so she felt certain they would go over well at FallFest.
She was right.
"They sold so well that they were gone within the first half of the day," said Thompson. "So the next year, we decided to just do the pumpkin roll."
Thompson was unaware that her recipe — which includes her special touch of walnuts on the outer layer of frosting — was still being passed down from class to class. But the news came as a pleasant surprise.
"It's a wonderful tradition. I know Polk State has changed its colors and its mascot, and I'm sure a lot of other things have changed, too. But I think it's cool the tradition has lived on," she said.
Because the pumpkin rolls have become a staple of PTA's FallFest presence, students in the Program take seriously the baking of the pastry. Customers come to their table year after year, expecting the same moistness and deliciousness they purchased the year prior, and the students are determined to deliver.
Second-year students school their first-year counterparts on the baking of the rolls, imparting upon them the importance of perfectly following the complicated recipe and delicately wrapping the hot bread over and over itself, carefully avoiding tears.
This year, student Monic Boddy is leading the pumpkin roll effort. It's a responsibility that she's accepted with obvious intensity.
"This is a huge deal.  We have a lot of repeat customers, so the pumpkin rolls have to be good. I've told my bakers to call me immediately if they have any problems, and I will come to their house and help them," said Boddy, also social coordinator and student liaison for the PTA Program.
On the day of FallFest, PTA students fill the bellies and scare the bejesus out of their patrons, and then they pack all the masks and scary props away, returning their classrooms to their original states.
Though their physical learning environment is quickly restored, each year the students grow in ways that can't be undone, Marquez said.
"They learn teamwork. There are a lot of moving parts to this whole event, and they have to work together to make it happen," Marquez said.
Not only must the students work together, building stronger ties to one another in the process, they must also work with the public — an opportunity that prepares them for their future work with patients.
"Working with the public requires good communication skills, and that is one of the skill sets that they will need in the 'real world,'" Marquez said, adding that students also gain valuable organizational skills.
PTA Program Coordinator Rosa Gonzalez said the Haunted House and pumpkin rolls also help draw students out of themselves, deepening the interpersonal skills they'll rely on when they enter the workforce.
"For some students who are very shy, it is hard for them to even introduce themselves. We are teaching that all the time, that students must introduce themselves and must feel comfortable talking in medical terms to physical therapists and physicians, but also in layman's terms to their patients," she said.
During the Haunted House, Gonzalez explained, students have to leave their shells if they are to effectively scare their patrons — scary clowns can't be reserved. The same goes with selling pumpkin rolls — students have to take on a more outgoing persona to draw customers in and make the sale.
"The interpersonal skills the students gain through those experiences will help them later on, when they need to make their patients feel comfortable," Gonzalez said.
Second-year student and PTA student president Jorge Espinosa said the Haunted House and bake sale is also a perfect initiation into just how committed PTAs must be to their work.
"If you want a 9-to-5 job, this is not the job for you. As a PTA, you have to work extra hours, you have to stay late to do paperwork, you have to be involved with your community. The Haunted House and bake sale project really contributes to the community mindset that the Program instills in us," he said.
Marquez said students who graduate from the PTA program at Polk State are regarded by area employers as professional and well-rounded, and it's extracurricular things such as the Haunted House and bake sale that make the difference.
"We don't produce one-dimensional graduates," he said.
PTAs work one-on-one with patients, delivering the treatments prescribed by physical therapists to relieve pain and restore function. Treatments may include exercise, massage, bandaging, therapeutic ultrasound or the use of heat, cold or electricity. Other Polk State Health Sciences programs include Cardiovascular Technology, Diagnostic Medical Sonography, Emergency Medical Services, Nursing, Occupational Therapy Assistant, Radiography and Respiratory Care. Polk State's Health Sciences students regularly outperform their peers in the state and nation on required licensing exams.