GiveWell Community Foundation funds manikins for Polk State EMS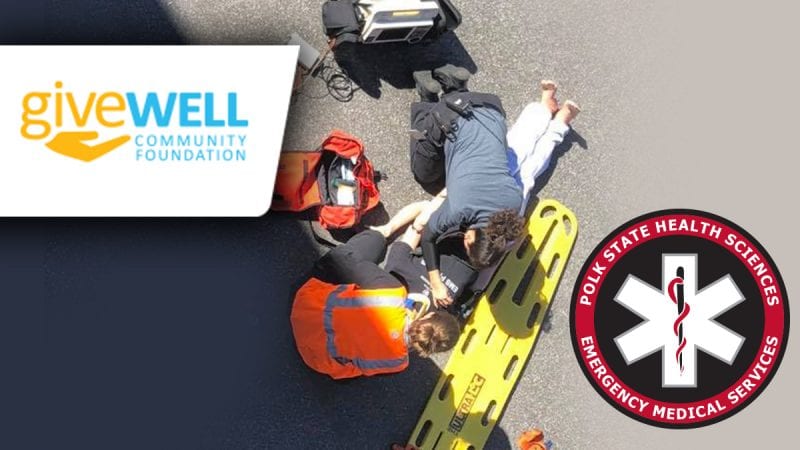 Polk State College's Emergency Medical Services (EMS) Program is committed to providing realistic, interactive training that gives students and professionals the skills they need to be successful in the field, and thanks to a grant from the George W. Jenkins Fund within the GiveWell Community Foundation, lifelike trauma manikins have enhanced these efforts.
The EMS Program's Strategies Advancing First-Responder Effectiveness (SAFE) received $11,960 through GiveWell Community Foundation's annual Impact Polk grant program to purchase eight manikins. The SAFE workforce training initiative provides disaster response field-based simulation training for 1,300 current and future emergency medical responders, police officers, and firefighters using heavy, rugged trauma manikins to give them the ability to practice skills in a broad range of situations. The manikins will also be used in active-shooter training for Polk County Sheriff Office and Polk County Fire Rescue employees.
"We are very appreciative of this grant, which allows us the extra tools in providing hands-on training for our students to better serve the community," EMS Director Don Guillette said. "The manikins that Polk State College EMS program received will assist us in a multiple of ways in allowing more hands-on trauma training for all of our Emergency Medical Service students."
More than 630 students and professionals have utilized the manikins since late October in a variety of training scenarios, from rescuing injured victims during an active-shooter incident to extricating someone from an automobile crash. Training takes place at the Polk State Center for Public Safety and includes rescue, extraction, immobilization, and restraint scenarios to improve the quality of trauma care in a broad array of circumstances.
Through February 2019, approximately 1,000 first responders from Polk County Fire Rescue, Polk County Sheriff's Office, the City of Winter Haven, the City of Lakeland, and other Polk County agencies will benefit from the manikins, in addition to Polk State EMS students who will use them in their courses.
The GiveWell Community Foundation has provided great support to Polk State programs over the years. In 2017, the College received a grant from the same fund for the Polk Girls in STEM Program.
"By providing their students and local agencies with outstanding EMS training opportunities, Polk State College is helping make our community a safer place to live," GiveWell Community Foundation President and CEO Terry Simmers said.