Gimme a Y-E-S: Polk Cheerleader Accepts Proposal During Halftime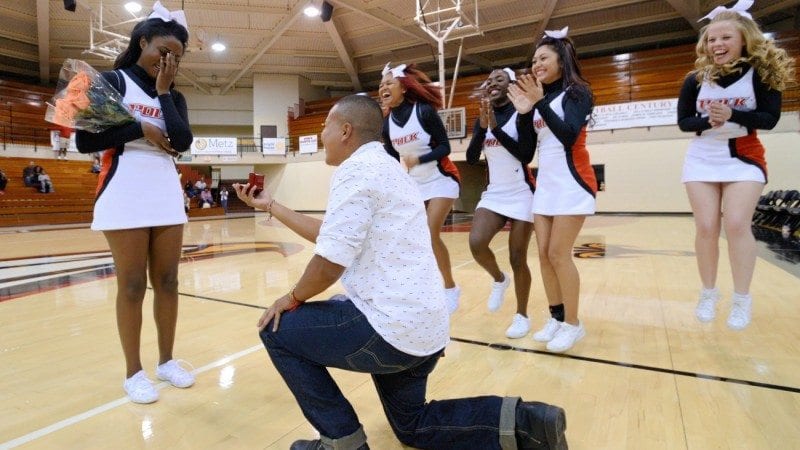 Ahmeya Woods never suspected anything unusual would happen Monday night, Oct. 3. Instead, she received the surprise of her life.
She thought she'd go to the basketball game with the other Polk State cheerleaders, root for the Eagles, and perform for the fans.
After the halftime routine, however, the PA announcer called for Esteban Jimenez to step onto the court. As he approached Woods, he handed her a bouquet of roses.
He paused and then asked, "Ahmeya, will you marry me?"
She reacted with shocked disbelief as he bent on one knee and placed a diamond ring on her finger.
Crying tears of joy, she said yes to his proposal while the crowd and her fellow cheerleaders applauded.
"I had no idea!" she exclaimed. "I am completely surprised!"
The couple, who both live in Winter Haven, have dated for two years.
Why did Jimenez decide to propose at the game?
"First of all is because cheer is Ahmeya's life. She's been doing it since she was 8 years old so I figured why not propose somewhere she loves and doing something she loves to do.
"I also wanted to show how much I love her and want to continue making a future with her by proposing publicly."