Giles Camp allows Polk State Basketball players to connect with local youth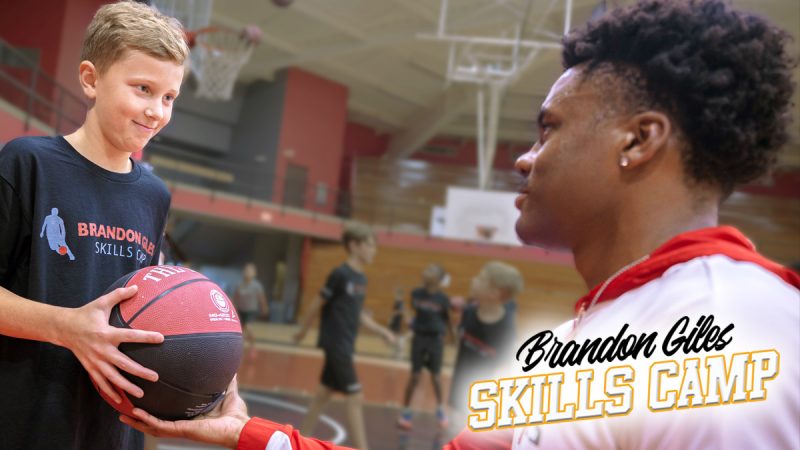 The annual Brandon Giles Skills Camp gives local youngsters the opportunity to bolster their basketball skills and learn new things but for Polk State Basketball players, it's a chance to make a positive impact.
With most just arriving on campus, players served as coaches, officials, and mentors over the five-day camp at the Health Center on Polk State College's Winter Haven Campus.
"The biggest thing is it gives them a feel for what a community-based organization we really are," Head Coach Brandon Giles said. "Their first day on campus, they're here to work with 100+ kids from right here in our community."
In addition to bolstering their skills, campers received a T-shirt, basketball, Eagle Basketball Playbook to Success, and the opportunity to win prizes. The campers, however, weren't the only ones who enjoyed the experience.
"I remember being young and at camps back home," said Ashton Howard, a sophomore forward and transfer from Tyler Community College in his native Texas. "I remember looking up to guys like us at camps when I was a kid. It's pretty cool to be on the other side. I'm excited to be here, to get to play ball, and just be part of this community."
As for the community, Giles said he was thankful for its support. Held for the first time since 2019, more than 130 local youth registered for the camp. One camper, however, came all the way from Miami to attend.
"We took two years off due to COVID(-19)," Giles said. "To come back and have our biggest group yet speaks volumes about the exposure our program is getting and the support we have from the community."
In addition to a grant from the George W. Jenkins Fund within the GiveWell Community Foundation, which helped with supplies and staffing for the event, more than 40 children were able to attend with scholarships, thanks to contributions from the City of Winter Haven, Citrus Center Boys & Girls Club, Imprint Ministries, and Family Ball Academy, which is run by former assistant coach John Shoffner.
"It's just fun," said Phillip Durden, 10, of Auburndale. "(The players) taught me how to play better and different formations. I like scoring and being able to play games."
For incoming forward A.J. Hamrick, a transfer from Charleston Southern, giving back is nothing new. Back home in Charlotte, N.C., Hamrick and his parents worked with a local church group to help feed the homeless.
"It's been fun; I enjoy it. I love giving back," he said. "I remember coming to camps like this as a kid. I enjoy being able to share a common interest in basketball with these kids and getting to do something we all enjoy."
Coach Giles' oldest son, Jrue, had the opportunity to attend his father's camp for the first time. Jrue Giles said he liked shooting the basketball and learned to dribble between his legs. He also appreciated interacting with the players.
"I like playing with them and shooting," he said.
Kaden Sakyiama, 14, of Winter Haven said he didn't initially plan on attending the camp but was convinced by a friend. Sakyiama is glad he decided to come.
"These college players are phenomenal with how they're coaching us," he said. "They're teaching us a lot of new things."
Sakyiama said basketball is more of a hobby than a passion, but that's not the case for Victoria Hall, 13, of Lake Wales. Entering eighth grade, Hall hopes to play basketball in high school and eventually, college.
"(The players) explain everything very well," she said. "They're very patient. It's really fun. I've enjoyed it."
When it comes to campers hoping to play collegiately, Polk State guard Kenny Burns Jr. hopes he and his teammates can serve as inspiration. A native of Atlanta and transfer from Kennesaw State, Burns arrived on campus on the morning of July 11 — just in time for the start of the camp.
"Maybe seeing us lets (the campers) know they can play a high level if they just put the work in," Burns said. "It's good to see how much of a positive impact we have. It's been an overall great experience. When they see us, you can really tell it brightens their day."
Although the camp is not a College-sponsored event, it allows coaches and players to engage the local community and foster young athletes' interest in sports and higher education. While the summer camp is hosted by Giles rather than the College, being on campus introduces the youngsters to the idea of higher education.
"It's been awesome to be able to work with these kids," said George Pridgett, a guard, and Jacksonville University transfer. "I love when people have fun. Knowing everything that's going on in the world, seeing these kids smile and the fact that we can bring joy and peace is a beautiful thing."