Friday is College Colors Day: Get Your Soar On!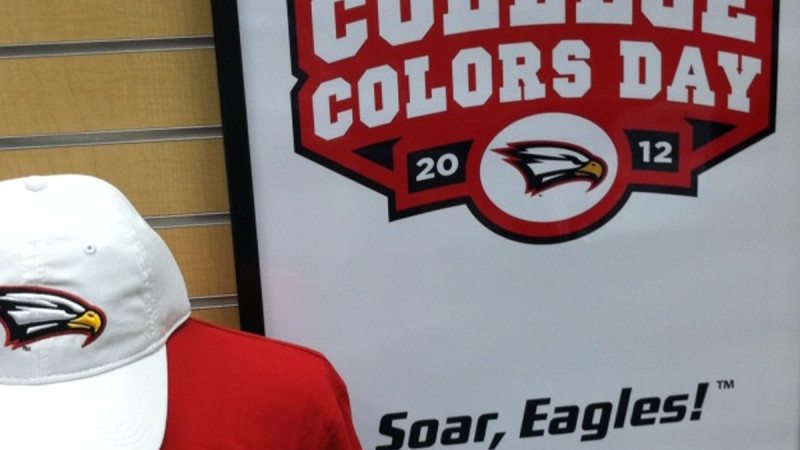 This week Polk State College and its growing fan-base will be participating in a nationwide celebration of school spirit. "College Colors Day 2012" has been set for Friday, Aug. 31.
College Colors Day is an annual celebration dedicated to promoting the traditions and spirit that embody the college experience by encouraging fans across America to wear their favorite college or university apparel throughout the day on Friday, Aug. 31.
Although the event is entering its eighth year, this year marks the first since Polk State's new brand hit retail shelves last fall. As the new school year kicks off with record student enrollment, bookstores on Polk State's Lakeland and Winter Haven campuses are fully stocked with Eagles merchandise in Polk State's red and black color scheme.
College Colors Day was launched in 2005 by The Collegiate Licensing Company, with an obvious interest in promoting the sale and ownership of licensed collegiate apparel. However, colleges and universities nationwide have embraced the opportunity to promote school pride.
According to Polk's director of athletics, Bing Tyus, "The response to our brand launch last year was phenomenal, and now we're excited to see our students, alumni and fans showing off their Eagle spirit. As President Holden always says, 'It's good to be us!'"
Tyus notes that new logos, new colors and a new mascot generated enthusiasm, "but so do our championships." Each of Polk State's athletics teams has earned conference, tournament or state titles in the last two years, and this year is already shaping up to be another banner year for the Eagles.
Current Polk State students have an additional incentive to don the red and black on Friday. The Student Activities and Leadership Office on Polk's Winter Haven campus will host a spirit competition at 12:30 p.m. in the Student Center. The student with the "most Polktastic" ensemble will win a new iPad, courtesy of SALO.
As for everyone else, Tyus has one thing to say: "Get your red and black on!"
The Polk State College bookstores are located on the Winter Haven campus in the Student Center and on the Lakeland campus in the LAC building, adjacent to the Student Center. Both stores are open from 7:30 a.m. to 7:30 p.m. Wednesday and Thursday, Aug. 29 and 30, and 7:30 a.m. to 6 p.m. on Friday, Aug. 31.