Former Polk Student Now Plays for National Contender FSU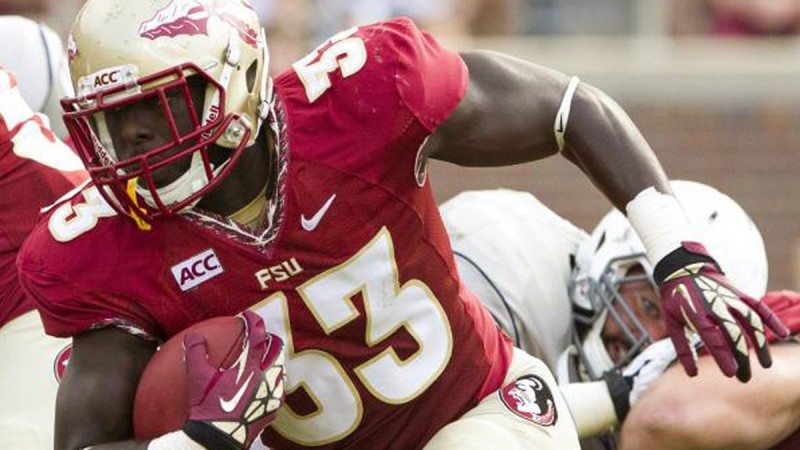 There's a Polk State College connection to the upcoming BCS National Championship game, and his name is Freddie Stevenson.
Stevenson, 18, is a fullback for the No. 1-ranked Florida State Seminoles. He and his teammates arrived in Pasadena, Calif., on Tuesday to prepare for the national championship matchup against second-ranked Auburn University.
"This season has been crazy and so much fun for him. Right now, he's focusing on preparing for the big game," said Stevenson's dad, Terriss, on Friday.
Stevenson was unable to speak with News@Polk because of a team rule against freshmen giving interviews.
Stevenson attended Bartow High School, where he played football all four years, as both a running back and linebacker. According to his FSU bio, he led Bartow his senior year with 83 tackles, helping him garner offers from a list of schools that included  Louisville, Penn State, Texas A&M and West Virginia.
In his senior year of high school, he dual-enrolled at Polk State, earning the credits he needed to graduate a semester early, in December 2012.
After graduating, Stevenson immediately headed to Tallahassee, Terriss said, adding that the head start his son got in college has been invaluable.
"He got into the flow of college. He got settled in and had more time to get comfortable with the team and the coaches," Terriss said.
Stevenson's early arrival on campus also allowed him to participate in FSU's spring practice.
Playing as No. 33, Stevenson has seen on-field action in 12 of the Seminoles' 13 games this season. A business major, he has also excelled in the classroom, earning FSU's Freshmen Academic Achievement Award.
Terriss said he and his wife, Sylvia, couldn't be more proud, of course. Though they won't be attending the national championship, they'll be watching every second from their home in Bartow.
"This is a blessing," Terriss said. "We're going to be watching it all and cheering just like we're in the stands."
The BCS National Championship will air on ESPN at 8:30 p.m. on Monday.