Former Polk State President Larry Durrence remembered for leading College through great growth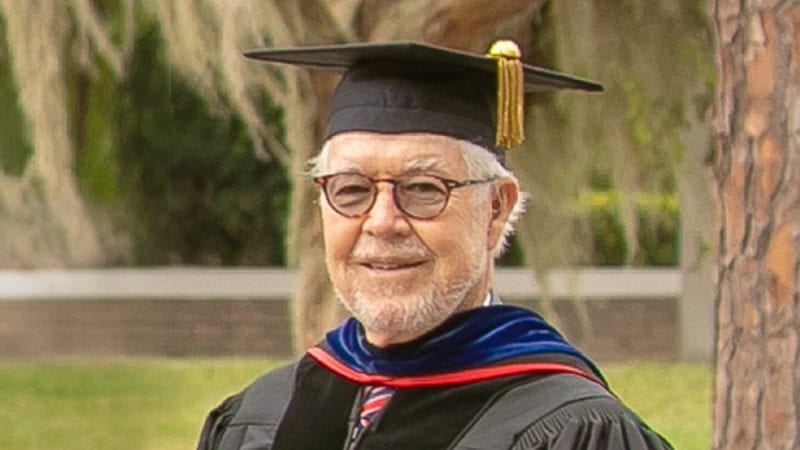 Larry Durrence led Polk State College through unprecedented growth during his eight-year tenure as president. He increased enrollment at what was then Polk Community College by nearly one-third. He introduced new degree programs in areas vital to the community including health care and information technology, and he launched the Polk State Corporate College for workforce training as well as the College's first collegiate high school for accelerated learning.
Durrence passed away Feb. 20, 2020, at 80 years old.
He served as the College's third president from 1998 to 2006 and is remembered by colleagues for his steadfast dedication to students, the community, and many initiatives that remain at the core of Polk State's mission today – most notably, workforce education.
"Dr. Durrence laid a strong foundation that the College continues to build on," Polk State President Angela Garcia Falconetti said. "His commitment to student success and to the prosperity of our community propelled our institution forward and Polk State is dedicated to upholding his vision of growth and quality for the College."
Durrence was born in Glennville, Georgia, on Aug. 22, 1939. When he was a child, his family moved to Florida, where they eventually settled in Lakeland. He graduated from Lakeland High School and earned his bachelor's degree from Florida Southern College as well as master's and doctorate degrees from the University of Georgia.
He spent most of his professional career in higher education and government, serving as a history and political science professor at Florida Southern College as well as chair of the department. His interest in historic preservation motivated him to run for Lakeland City Commission, which he served for eight years, including two terms as mayor in 1982 and 1986.
Durrence went on to work in Tallahassee, first as program director for the Florida Center for Public Management at Florida State University, then as executive director of the State Taxation and Budget Reform Commission, and finally, as the intergovernmental relations advocate for the Department of Revenue.
When he returned to Polk County to assume the role of president at Polk State, he ensured the College was "on the map" in the community, in Tallahassee, and beyond, Director of Equity, Diversity, and Inclusion Valparisa Baker said.
"He was a forward-thinking individual who believed in education and who believed in the Polk mission and vision of providing quality education to our diverse community."

— Valparisa Baker
Director, Polk State's Office of Equity, Diversity, and Inclusion
"He was a game-changer. His mind was set on making the College the best around," Baker added. "He was a forward-thinking individual who believed in education and who believed in the Polk mission and vision of providing quality education to our diverse community."
She credits Durrence with providing the support to launch initiatives including her office's largest annual event, the MLK Celebration Luncheon. Today, the Office of Equity, Diversity, and Inclusion holds a slate of events that promote cultural awareness and that are attended by nearly 2,500 students, faculty, staff, and members of the community each year.
Cindy Price, past chair of the Polk State Foundation Board of Directors and the December 2004 Distinguished Alum, also highlighted Durrence's focus on fostering diversity at the College and in the community, including minority and female representation in leadership positions.
"It was an honor to serve under Larry's leadership. He was kind, considerate, and sensitive to the needs of all populations," Price said. "He was a great public servant who gave to our community in many ways."
"He was an open-minded individual who led by example and with a servant heart," Baker added.
He was also an individual who never lost the art of handwritten notes, she and others highlighted.
Judy Cleaves, a friend of the Polk State Foundation, said she always appreciated the extra time Durrence put into scribing words of congratulations and encouragement.
"He was very thoughtful to sit down and write notes," she said. "He was never too busy for his friends."
Cleaves met Durrence when he was selected as president. They served on committees in Winter Haven together and became members of the NOSEY group with several friends.
"It stands for Nine or So Each Year because we lose some friends and we gain some friends," Cleaves explained of the group that travels together annually. "Larry was a wonderful part of our group. He was kind and fair-minded. He was fun to talk to because he looked at all sides and was always well-researched."
Bonnie Parker, past chair of the Polk State Foundation Board of Directors, echoed a similar sentiment. She highlighted Durrence's ability to always "bring the facts and make really good points in a respectful way."
"Sometimes he could ruffle some feathers, but he always did so with conviction and that is the sign of a good leader," she said. "He is one of the smartest men I've known, but he was never smart in a boastful way. He was humble and not the type to lead with an iron fist."
Instead, he was an innovative collaborator, colleagues and friends agreed.
Robert Clancey, former Polk State Corporate College director, called Durrence a true visionary who had the ability to get others involved for the betterment of the community.
"He was great at getting everyone together and facilitating productive meetings that would move our ideas and the community forward," Clancey said. "When Larry had a meeting, you would walk out with an action plan."
That was especially true for the development of the Polk State Corporate College.
"He listened to other communities and what they were doing to get businesses to move to their communities," he explained. "The College has always been good at education, but it was time to take the next step, so he got the leaders of our community involved."
Today, the Polk State Corporate College serves approximately 12,000 students in workforce and short-term training programs each year.
Steve Hull, retired Vice President for Academic Affairs and Provost who served as the workforce dean under Durrence's leadership, considers the expansion of existing workforce education programs and the development of new initiatives Durrence's greatest impact on the College.
"His vision for workforce education created what is in operation today," Hull said. "His experience as a public official gave him an understanding of the value workforce education has to the community and he listened closely to the community to develop the programs it needs."
In addition to workforce education programs in healthcare, information technology, and the Polk State Corporate College, Durrence launched the College's first collegiate high school. Today, Polk State's three charter high schools graduate more than 400 students each year with the majority earning their Associate in Arts degrees in addition to their high school diplomas.
"He has done as much  for Polk County as anyone I know. As the head of Polk State College, he helped the whole community."

— Bonnie Parker
Past chair, Polk State College Foundation Board of Directors
Durrence also was instrumental in increasing the number of scholarships for students, establishing funds including the Larry Durrence Allied Health/Nursing Scholarship, the Durrence Family Scholarship benefiting Philip O'Brien Elementary, and the Durrence Family Rising Star Scholarship benefiting Crystal Lake Middle School. He also supported the Hazel Haley Scholarship benefiting Lakeland High School and the Larry R. Jackson Memorial Scholarship benefiting Rochelle School of the Arts. Individuals who are interested in contributing to the Polk State Foundation in honor of Durrence are invited to visit foundation.polk.edu/durrence for more information.
Additionally, Durrence was active in many organizations including Polk Vision, United Way of Central Florida, the Lakeland Area Chamber of Commerce, and First United Methodist Church.
"He has done as much for Polk County as anyone I know," Parker said. "As the head of Polk State College, he helped the whole community."