For Coach, Record-Breaking Season Rivaled Only by Fatherhood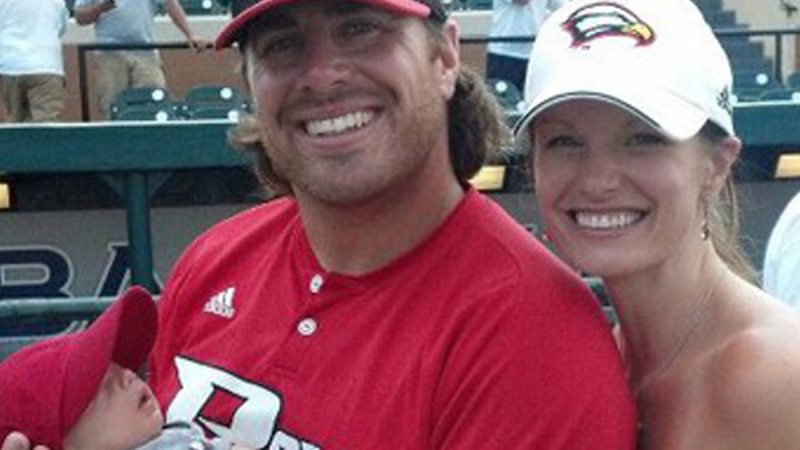 Polk State College will compete in its first NJCAA JUCO World Series when the tournament begins on May 26 in Grand Junction, Colo. The national championship berth comes after a record-breaking season and the team's second consecutive Suncoast Conference Championship. News@polk is chronicling this historic season with a series of stories, giving an inside glimpse to the personalities behind the uniforms and the hard work that has led the team to the national spotlight.
In the erupting jubilation after Polk State Baseball's state tournament victory, the teammates slapped high-fives and leapt into giant, bouncing bear hugs.
For Assistant Coach Brad Cook, meanwhile, the most cherished moment of celebration came as he cradled his newborn son, Broderick, and gently kissed his tiny head.
"There's nothing else like it," Cook said.
For Cook, in his second year at Polk State, the 2011-12 season was already one he would never forget. After all, he's helped guide the Eagles to new records, their second consecutive Suncoast Conference Championship, a state championship title and a berth to the NJCAA JUCO World Series later this month.
But on top of all those incredible career milestones, Cook also became a father, welcoming little Broderick into the world on March 13. The past seven weeks have been an intense blur of pure happiness.
"It's just beyond exciting," said Cook, 32. "I've always looked forward to having a little guy, and to have him here during all this is just incredible."
Broderick — Brody for short — may be far too small for the Eagles uniform and has months to go before he'll be able to run the bases, but he's very much a part of the team's historic season.
He was born during a matchup against Heartland Community College, taking his first breaths as the Eagles were down 1-0 in the top of the seventh inning. After Brody's birth was announced, the Eagles rallied, winning 6-2.
"He's pretty lucky," Cook said, pointing out that the Eagles have only lost three games since Brody's arrival.
One of those losses was against Palm Beach State in round two of the state tournament, an especially heartbreaking defeat that came after umpires ruled that second baseman Conor Szczerba had not touched home plate while making what would have been the game-winning run.
The next day, with so much on the line for the Eagles, Cook and wife Sarah dressed Brody in a gray onesie printed with "Future All-Star" in red letters across the chest. The Eagles rallied from the previous day's loss to defeat Santa Fe College 3-1 — and the onesie officially took on good-luck-charm status.
Brody wore the onesie for the next three games — the very games that secured the state championship title.
Brody, of course, will wear the lucky onesie as his dad competes in the NJCAA JUCO World Series, which begins May 26 in Grand Junction, Colo.
Brody's early introduction to baseball is not limited to superstitions. He rests in the crook of his dad's arm as they watch televised matchups, and Cook is already training Brody to become a left-handed pitcher.
"I put my finger in his left hand and we do the pitching motion," Cook said. "Left-handed pitchers have it made in baseball."
And Brody, it seems, already realizes the preciousness of lefty pitchers.
"He's taken a particular liking to (Eagles left-handed pitcher) Steve Burnham," Sarah Cook said, explaining that Brody's eyes widen when he hears fans chanting "Stevie, Stevie" as Burnham takes the mound.
"He gets all smiley and I hold his hands up high and go 'yea!'" she said.
Cook — who, yes, is drinking lots of caffeine these days to recover from those newborn-induced sleepless nights — can't wait to coach Brody's little-league teams and teach him the intricacies of the game.
But for now, it's Brody who's doing the teaching.
"Fatherhood gives you a whole new perspective. Baseball isn't everything when you're responsible for another human being," Cook said.
Another member of the Polk State Baseball coaching staff will soon be reveling in the joys of fatherhood as well. Head Coach Al Corbeil's wife Whitney is due to give birth to their first child in early June — just days after the NJCAA JUCO World Series.