Football Star Turned Motivational Speaker Eric LeGrand to Visit Polk State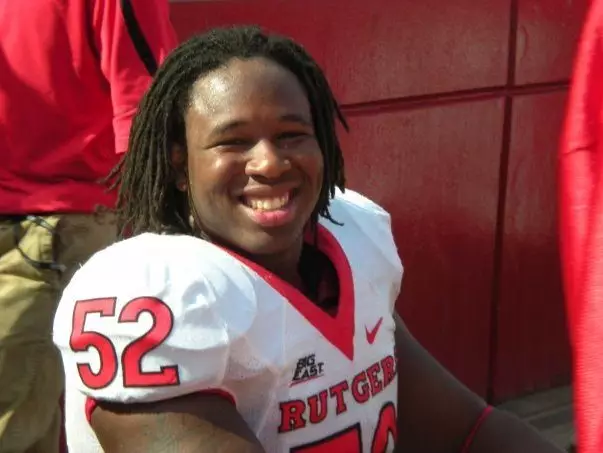 A once-rising football star who was injured during a game two years ago, leaving him paralyzed but determined to finish college and begin a new career, will visit Polk State's Winter Haven campus on Monday, Sept. 10, to share his motivational story.
Eric LeGrand was a bright star on the Rutgers University football squad, beginning his collegiate career in 2008 as a defensive lineman and fullback. In his two years of play, he was a key defensive performer, posting career-high tackling stats that garnered attention from the NFL.
In October 2010, in a game against Army, while making a special-teams play, he suffered a spinal cord injury that left him paralyzed from the neck down.
The injury ended a bright career that had barely begun, but also proved to be a new beginning for LeGrand. Now confined to a motorized wheelchair, he has remained tied to the game of football. Earlier this year, Tampa Bay Buccaneers Head Coach Greg Schiano, who was LeGrand's head coach at Rutgers, signed LeGrand as an undrafted free agent. With his dream of signing an NFL contract fulfilled, LeGrand promptly announced his retirement from professional football.
While undergoing rehabilitation, LeGrand resumed his college classes using Skype and also launched a sports broadcasting career as an analyst for Rutgers Football Radio Network.
LeGrand in 2012 also received the prestigious Jimmy V Award for Perseverance at the ESPY Awards and released his first book, "BELIEVE: My Faith and the Tackle That Changed My Life." Through his Eric LeGrand Foundation, he raises money for spinal cord injury research, in the hopes of finding a cure.
LeGrand is also now an in-demand motivational speaker, sharing his story of perseverance with audiences across the country.
In an event sponsored by Polk State SALO, LeGrand will appear at the Winter Haven Fine Arts Theatre at 2 p.m. on Monday. Tickets to the event are free for Polk State students with a College-issued ID and may be picked up at SALO offices on either the Lakeland or Winter Haven campus.
Polk State Winter Haven SALO Director Carlos Parra, organizer of the event, said students will not want to miss the opportunity to hear LeGrand speak.
"Eric LeGrand has a very motivational story of turning tragedy into triumph. His message is that you can overcome if you believe," Parra said.
During the event, students will have the opportunity to submit questions they would like LeGrand to answer.
Polk State SALO will also be giving away an iPad during a drawing after the event.
For more information, visit facebook.com/WeAreSalo.