Polk State Soccer's Flaherty Gives Back by Serving as First Flight Mentor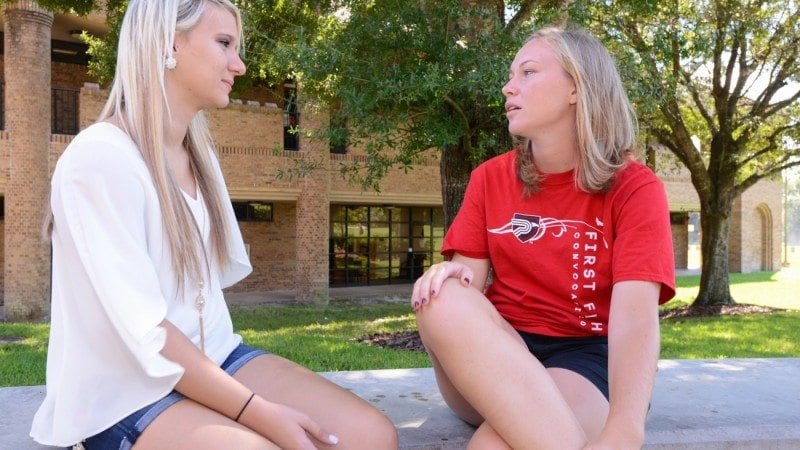 As a student-athlete taking 18 credits this semester, sophomore Meghan Flaherty has little free time. But she believes it is important to make time to help new students adjust to life at Polk State. That's why she serves as a mentor in the College's new First Flight program, which aims to help freshmen adjust to and succeed at the College. Out of 99 mentors in the program, she is the only student-athlete.
"I could have used help as a freshman here at Polk, so I decided to become a mentor," says Flaherty, who plays as a defender on the College's soccer team.
"Lots of people stress out about college. I want to make it easier for them. I enjoy volunteering and giving back. "
Academic Success Counselor Cate Igo says, "It's really difficult to make the transition from high school to college.  Less than 50 percent of our students are able to successfully make the leap and complete their college goals.
"Mentors, like Meghan, make all the difference in the world.  They give our freshmen the two things they most need: a meaningful relationship on campus from day one and the opportunity to engage in college life and all the resources we have available for their success. "
Flaherty works with a group of five student mentees that she sees at least once a week.
"We also have a running conversation by text," she says. "I've become a friend to them and they've become friends to each other."
Sommer Leavens, a freshman from Auburndale, says having Flaherty as a mentor helps a lot.
"She tells me about all kinds of things, like Polk State activities that are going on," says Leavens. "If I have a question or need help, I can text her. She texts me, checks up on me, answers lots of questions.
"Coming in as a freshman would definitely be harder without a mentor."
Flaherty says she functions more as a social mentor than as an academic one.
"Right now I'm planning a dinner for the group. I update them on school events, and tell them when and where free food is available. They like that!"
Steve Linamen, head soccer coach, says, "Meghan is exactly the kind of student-athlete I look for. Character is very important with our team culture, and Meghan helps bring a level of maturity that isn't often seen in today's society at her age."
Flaherty is studying toward her Associate in Arts degree, has a 3.8 GPA, plans to become a teacher, and says acting as a mentor offers good experience.
When she's not going to class, studying, practicing with the soccer team or playing in games, she's also working to become a soccer referee on the high-school level.
Freshman Victoria Hogg of Lakeland says, "Meghan is always telling us about great things to do. She is very supportive. She helped me with a great way to find my classes, which was really helpful. She is a great friend as well."
That support and friendship can make a big difference – for mentors and mentees.
"Meghan is the ideal mentor," says Igo. "She works hard and reaps the benefits. She's teaching her mentees by example that focus, commitment, engagement, and hard work will ensure they cross the stage at graduation. "