Five Questions With Mary Ann Murdoch: How Everyone, Even Professors and Students, Can Incorporate Yoga Into Their Lives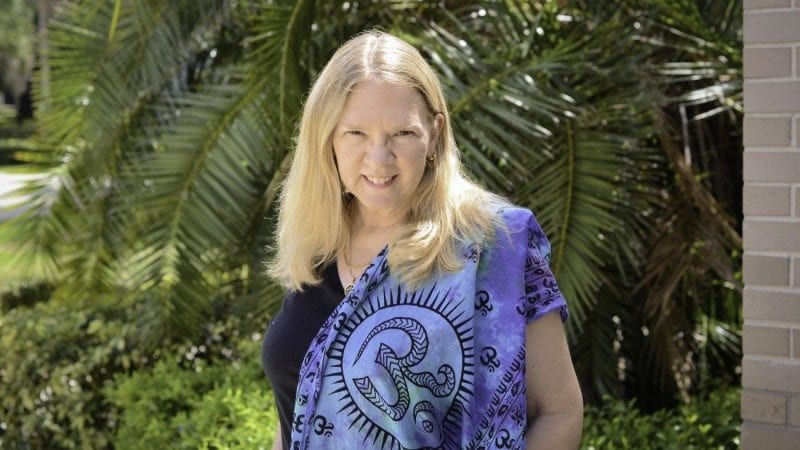 Those who are less familiar with yoga may think of it merely as exercise that people do while in a specific location, during a specific period of time, and while wearing a specific type of clothing.
Polk State Humanities and Film Professor Mary Ann Murdoch, a yoga instructor and author on the topic, knows otherwise.
Yoga is not just stretching. It is a way of life. And you can incorporate it into everything you do, even teaching and studying — yoga pants not required.
Here, Murdoch, whose article "Mindfulness Education" was recently selected for publication in the International Journal of Humanities and Social Science, discusses her passion for her practice, how yoga can be used in the classroom, and her new course, Yoga Philosophy.
Tell us about your article in the International Journal of Humanities and Social Science. What are the major takeaways?
The article is something I had been working on for a few months in 2014 and early 2015 after thinking about what I do as a professor. I wanted to explore how I could build and increase satisfying interactions with my students and my colleagues. I also wanted to deal with how the whole culture of education is affected by adherence to rules and procedures, as most institutions are. But these rules and procedures tend to limit and stifle our highest purpose as educators, and can create classrooms that lack mindfulness and openness. Because I'm immersed in yoga as a teacher and a practitioner, I wanted to show how the ethical principles and philosophies of yoga could be used to reshape how we teach, and how we relate to students, colleagues and the overall system we work in.
Can you give us some examples of how educators can use yoga in their classrooms?
Teachers can use many ethical practices at the core of yoga, including non-harming, truthfulness, not taking from others, non-possessiveness, contentment — these are called the Yamas and Niyamas. The "great vows." They can be applied when teachers understand how actions, words, attitudes and behaviors can be harmful or untruthful, or can deprive you or someone else of an opportunity to learn or grow. It can be as simple as taking an extra couple of minutes to help a lost student find a classroom or building on campus, sending a colleague a sincere note of congratulations for an achievement, tuning in to your students' anxieties or concerns, and being approachable and caring. It can also mean taking an honest but non-judgmental look at yourself, your views, your biases, and your own possible boredom with your class subjects, readings, tests and assignments, and finding ways to energize yourself so that you can bring that dynamism to your students and your campus.
What are the benefits of integrating yoga into education?
Through the physical practice of yoga, and also the mediation and breath practices, students — and anyone! — can find great ways to deal with stressors, fears and pressures, which we know affect students and their performance, and often their decision to stay in college or quit. Yoga offers the opportunity to look deeply into your own nature and your life choices. It can help students find inner and outer energy, more insight, strength, confidence and compassion. And the beauty is that yoga meets you where you are — whether you've taken a few classes, have been practicing for years, or have never heard of downward facing dog! It's not about contorting yourself or being competitive with anyone else. Everyone worries about their appearances and body types. But everyone has a "yoga body"!
What inspired your interest in writing this article and in yoga in general?
I found yoga many years ago, but became more serious about it in 2011. I decided to go all the way with the intensive 200-hour teacher training, which I completed in December 2013. I'm a Registered Yoga Teacher (RYT200), and have been teaching at Yoga Pointe studio in Lakeland since January 2013. My intention is to be a good steward of yoga and yogic philosophy, and to help people understand that yoga isn't a thing you "do." It's what you live. Without getting too "New Age-y" about it, it's a life philosophy that touches all areas of your being. It helps you find — and be — your best self. This article was just an outgrowth of that passion. And, honestly, I find most academic and "scholarly" writing to be deadly dull. I wanted to write an article a bit off that path. A bit edgy. Something that might get some conversations going, among teachers, academics and students. Each of us can be an agent for change, and I believe it's our duty — and our privilege — to embrace that.
Tell us about your new class, Yoga Philosophy. What topics will it cover and why was it something you wanted to develop?
I'm excited about the class. It's HUM 2930, Yoga Philosophy. I've been developing it for a couple years, and here I need to express gratitude to my department head, Professor Ana Maria Myers, for being so encouraging. It's wonderful to work for someone who basically doesn't say "no." When I approached her about creating this new class, she said, "Go for it!" Yoga's rich history lies in India, and other Asian countries, and there are wonderful ancient texts of yoga that I wanted to explore. The class will include the Yoga Sutras, the Hindu deities, mindfulness, postures, breath practices, meditation, developing a personal practice, and learning some Sanskrit! I also wanted to develop a class that focused on Eastern/Asian humanities. Most college offerings focus only on Western humanities — the ancient Greeks and Romans, the European influence, etc. I wanted to create a class that gives students a different perspective and deepens Polk State's humanities department offerings. My intent is for it to be interactive and immersive, and I hope students will find it personally challenging and fulfilling. The word "yoga" comes from the Sanskrit word "yuj," which means "to join." So I invite people to join in for what I hope will be a cool journey. Namaste.
Yoga Philosophy, HUM 2930, is listed under reference number 064488. It will take place at the Winter Haven campus on Monday and Wednesday mornings in the fall semester. Students may register for the course through Passport.