Five Questions With SALO Coordinator Allison Walker: Developing Student Leaders and Serving the LGBTQ Community Are Her Pride and Passion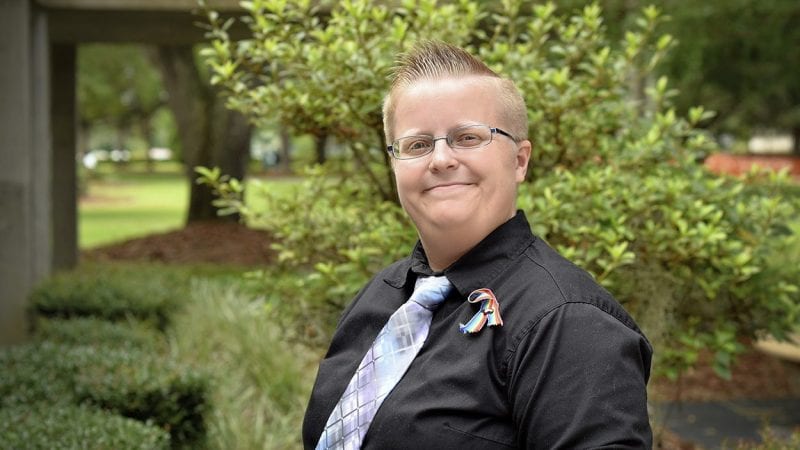 Four years ago, during her interview at Polk State College, Allison Walker likened herself to Jean Grey, also known as The Phoenix from the "X-Men" comic books.
"I was asked what superhero I would be and why," recalled Walker, Coordinator of Student Activities and Leadership (SALO) at the Polk State Winter Haven Campus.
"Jean Grey is intelligent, telepathic, and telekinetic, but she also has this dark, raw, and powerful side to her as The Phoenix. Although I wasn't in the field of student activities at the time of the interview, I told the hiring committee that I would use my powers for good, not evil, and like The Phoenix, I would rise to be better than ever in the field of student activities and student affairs."
Walker's answer obviously went over well. A week later, she was offered the job. She's been helping students discover their own superhero powers as student leaders, ever since.
As with her interview, Walker's passion for working with students and helping others can be summed up in her responses:
How did you get involved in student activities?
When I was in college, my motivation was to find a career that would allow me to get paid to have fun and help others. I was involved as a student leader during my studies at Saint Leo University. It was when I was acting as an orientation leader during my junior year that I learned I could take my passion for helping students and make it a full-time career.
I was fortunate to have an amazing mentor at Saint Leo, Ana Di Donato, Associate Vice President of Student Success, who pulled me aside and informed me about the field. I was told I would need a master's, so after graduating from Saint Leo with a bachelor's degree in Sports Management, I went to Nova Southeastern University to get my master's in College Student Affairs with an emphasis on Conflict Analysis Resolution. Five months after receiving my degree, I was fortunate to be offered a position at Polk State College.
Many students attend classes and leave campus, never taking the time to get involved in student activities. What would you say to those students?
Getting involved in college is incredibly beneficial for personal development. It helps students get the most of the college experience. They get the chance to meet other students, plan events, and truly make a difference in the college community.
Can you give an example of the difference you have seen student activities make in a student's life?
I remember when I met the 2015-2016 Polk State Winter Haven Student Government Association President, Sinead Fernandes. She was very shy, super intelligent, and wanted to get involved. Over the time we worked together, I had the chance to collaborate with her on the SALO Leadership Workshop, now known as the Student Government Association Leadership Summit. This leadership opportunity is unique as it provides a free, small-scale leadership conference for students based on topics identified by student organizations' leaders with the intent to engage emerging leaders.
Our first year was a huge success. We had the chance to take what we learned in creating the leadership workshop to create a presentation, "Let's Turn a Leadership Conference into Aca-Awesome!" that we then presented at the Association for Promotion of Campus Activities: Annual Leadership on Broadway Experience in New York City.
It was incredibly rewarding to be able to provide this opportunity to a student leader and give her the chance to present at a national conference as an undergraduate. Sinead was the student who took the initiative to talk to me about the leadership workshop and expressed interest in wanting to help plan it. Little did we know at the time that it would provide us with more than just a traditional event, but a chance to present on a national level.
One of your passions is serving the LGBTQ student community. Tell us a little more about why this cause is so special to you.
I am an openly gay staff member at Polk State College. One of my many passions within student life and higher education is helping the LGBTQ community. The identity process is critical during the college years. Colleges are able to assist students through support services, policy development, training, and more, to ensure our students, faculty, and staff feel welcomed.
I remember what I went through when I was a young adult in college and graduate school. I was fortunate that when I "came out" to my family and friends, they accepted me.
I want to be able to give back to the community and help others who are going through this experience. I have been fortunate through my work at Polk State to help develop training to ensure faculty, staff, and students are equipped to serve the LGBTQ community. I have also presented within the Florida College System about LGBTQ issues in higher education. This is one of my many research interests as well. I was fortunate to have been asked, along with a colleague at Hillsborough Community College, to present on transgender student issues at the Florida College System's Student Government Association Advisors Conference this past summer.
What are you involved in outside of Polk State College?
Along with being the Winter Haven Campus Coordinator of Student Activities and Leadership, I serve as the Student Government Association's District 3 Advisor and Co-marketplace Coordinator for the Florida College System. I present Florida Leadership Training Session 6: Diversity for the leadership certificate program offered to students as part of the Florida College System's Student Government Association conferences. I also serve on the Saint Leo Alumni Association Board of Directors and participate as a member of the Mighty Altos for the Orlando Gay Chorus.
For more information about Polk State Student Activities and Leadership Office, visit polk.edu/salo.