Five Questions with Cate Igo: Why the First Year Seminar is Required and How It Will Prime New Students for Success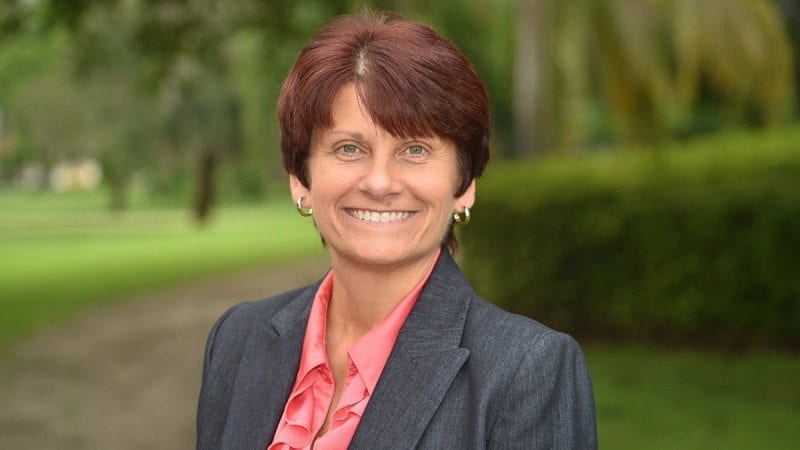 Registration is underway for the fall semester at Polk State College, and as new students are selecting their classes, many of them are learning about a new graduation requirement: the First Year Seminar.
What is this class? Why is it required? And what are students who take it going to learn?
For answers to these questions and more, News@ Polk consulted Cate Igo, director of academic success initiatives.
Put simply: In First Year Seminar, students are going to decide where they want to go in life — and how Polk State can help them get there.
Here, Igo gives us more details on the new course and the outcomes it is designed to deliver.
What topics will be covered in the First Year Seminar? Describe what the semester will be like for students taking FYE.
The First Year Seminar offers ways to help first-time-in-college students acclimate to Polk State College, integrate into the campus community, and achieve academic success through exploration of College resources, self-reliant strategies, and critical thinking.
The course was designed as an extended, interactive orientation and is divided into three primary sections: Acclimating to Polk State College, Knowing Your Opportunities and Responsibilities, and Preparing for the Future.
One of the most important aspects of the course centers on the exploration of educational pathways. We know that students who have a clear pathway to graduation are much more likely to graduate. In the First Year Seminar, students will learn about meta-majors and degree audits, and develop a personalized educational plan that will provide that pathway. Students will also learn about campus technology, digital literacy skills, campus and academic resources, information literacy, career exploration tools, and more.
Students taking the seminar can expect to have a lot of fun while also learning a lot about the College, their peers, and themselves.
Why is the College launching the First Year Seminar this fall and why is it required?
Transitioning to college is challenging. Polk State wants to offer students the guidance and support they need to successfully navigate the opportunities and difficulties of their first year of college. In addition to sharing important resources, we want to connect students to the people who can help them when problems arise. The Seminar is designed to ensure that no matter what challenge a student encounters, he or she will know how to get help to overcome and succeed. The College is so committed to the need for the First Year Seminar that the class is now a graduation requirement for all first-time-in-college, Associate in Arts degree-seeking students.
How is this course different from College Success?
College Success explores the academic skills that help students be successful, like note-taking, test-taking and study skills. The First Year Seminar is about connections. As an extended orientation, students will have the entire semester to form meaningful connections with their peers, their Seminar faculty leader, the College and its resources, and their own educational and professional goals.
The First Year Seminar is also highly interactive. In most College classes, students are given information about a specific discipline, like math or English, and are expected to absorb it. In the First Year Seminar, the course centers 100 percent on the student experience and enriching opportunities for student success.
How do you think students will be different for having taken First Year Seminar? How do you expect they will grow and mature during the semester?
Nationally, students who successfully complete first year seminars have a higher graduation rate than those who do not. They are more successful because they have three things their peers do not: knowledge of critical college resources and tools; a clear pathway to graduation through their personalized educational plan; and faculty coaches and supportive friends to help them along the way.
The First Year Seminar is part of a broader initiative called First Year Experience. What is First Year Experience and what does it involve?
The First Year Experience is just what it sounds like: It's a new student's "experience" at the College. Success in college requires more than just attending classes these days. To be successful, students must learn to master their environment and become an integral part of the college community. College is not an individual sport. It takes a team to make it through to the other side, which in this case is graduation. The First Year Experience is about helping students build their teams.
The First Year Experience begins with online orientation and an assessment that helps students identify academic and behavioral strengths and weaknesses. After orientation, students attend a pre-advising session in Academic Advising and register for their first semester of classes, which will include the First Year Seminar.
At the end of the first week of school, the College hosts First Flight Convocation. This is a huge celebration that takes place on both the Lakeland and Winter Haven campuses. All freshmen attend First Flight with their First Year Seminar leaders.
The First Year Experience also includes the Common Read program. Faculty, staff and students across the College have been invited to read this year's Common Read selection, "The Other Wes Moore," by Wes Moore. The Common Read will give the Polk State community an opportunity to have collegial discussion on a broad spectrum of themes. The book is being provided free of charge to students enrolled in the First Year Seminar.
The Student Activities and Leadership Office (SALO) will also be sponsoring a series of First Year Experience activities throughout the year.
The bottom line: A student's first-year experience is what he or she chooses to make of it. Polk State is providing opportunities for students to have a positive first year. Students who embrace First Year Experience and engage in all its offerings will be ready for success at Polk State —  and beyond.
For more information on the First Year Experience or Seminar, contact Igo at cigo@polk.edu.