"A Fine Romance" on Display at Polk State Lake Wales Arts Center; Artist to Perform Jan. 16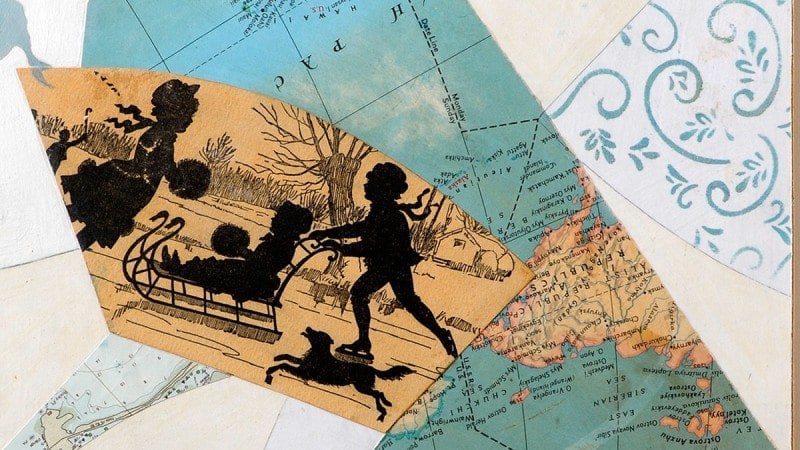 Now on display at the Polk State Lake Wales Arts Center is "A Fine Romance," featuring the works of Erika Lawlor Schmidt, who will also give a special performance later in the month.
A native of Illinois, Lawlor Schmidt studied at the University of South Florida and the School of the Art Institute of Chicago. Describing her work as "investigations into Eastern philosophy and Indian mysticism," Lawlor Schmidt creates collages using pieces from prints, maps, books, magazines and other materials.
Lawlor Schmidt has been a guest artist at the San Francisco Conservatory of Music, University of Miami, Elon University and Castleton College. Her prints and collages have been exhibited at venues across the country, including the Lincoln Center Gallery in New York.
"Erika's works are incredibly intricate," said Polk State Arts & Cultural Affairs Director Osubi Craig. "They're the kind of works that, the longer you spend with them, the more you discover and feel."
Lawlor Schmidt's exhibit, "A Fine Romance," will be on display through Jan. 29. Gallery hours are 8 a.m. to 5 p.m. Monday-Friday. The Lake Wales Arts Council will host a reception for the exhibit from 5 to 7 p.m. on Jan. 14. The reception is free and open to the public.
Lawlor Schmidt is also an accomplished cellist and performance artist who founded the Vital Spark Performance group while studying at USF. Vital Spark, "a collaborative interdisciplinary ensemble," according to Lawlor Schmidt's website, has performed throughout the United States and Europe.
Lawlor Schmidt now performs as part of the duo Vital Spark North, alongside her husband, Gary Schmidt, a pianist and composer. Vital Spark North has performed throughout the U.S. and abroad.
Vital Spark North will perform at the Polk State Lake Wales Arts Center at 7:30 p.m. on Jan. 16. The event is presented by the Lake Wales Arts Council. Tickets are $20. To purchase tickets, contact the Lake Wales Arts Council at 863.676.8426 or info@lw-arts.org.
"We're very fortunate to be able to bring an artist such as Erika Lawlor Schmidt, who excels in such diverse forms of artistic expression, to Polk County," Craig said.
The Polk State Lake Wales Arts Center is located at 1099 State Road 60 East.
For more information, call 863.298.6883, email LWAC@polk.edu, or visit polk.edu/the-arts.