From Feelings of Helplessness, Polk State Alumna Creates "Orlando Strong"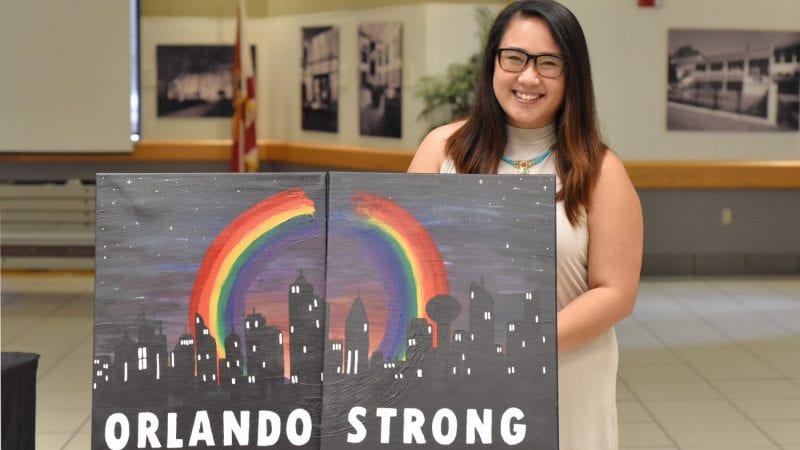 At the center of Monday's events to honor the victims of the Orlando nightclub shooting was a painting Polk State alumna Jenny Nguyen created in the hours immediately following the June 12 tragedy.
Nguyen spends a lot of time in Orlando, and will be moving there in August to attend the University of Central Florida. Given her personal ties to Orlando, Nguyen has felt a deep sense of despair for the city in the days since the shooting that left 49 dead.
"After the tragedy, I felt so hopeless and useless," she said. "This is my community, and I couldn't do anything for it. The best way for me to cope with it was through painting. I wanted to bring hope for myself and remind my community that there is hope for tomorrow."
To cope with her grief, she picked up a paint brush. Two days later, she had completed her painting, titled "Orlando Strong."
On Monday, she explained the various elements of her work, what it means to her, and what she hopes it will mean to others.
Nguyen used two canvases to represent the fact that the shooting, briefly, broke Orlando. However, when the city came together — symbolized by displaying the two canvases side-by-side — the city became "Orlando Strong." The dark sky above the Orlando skyline represents the darkness the shooting created in the city, but the rainbow portrays hope that the city will heal and overcome the tragedy.
The painting was used to promote Polk State's memorials for the victims, which took place Monday in Lakeland and Winter Haven. But "Orlando Strong" has achieved a level of fame separate from Polk State. Namely, the GLBT Community Center of Central Florida shared a photo of the painting on its official Facebook page on Saturday. The image has since received more than 100 "likes."
"People have been telling me they've seen it everywhere," Nguyen said.
Nguyen said she plans to donate "Orlando Strong" to the City of Orlando.
Nguyen graduated from Polk State in 2015 with her Associate in Arts degree. At UCF, she will pursue a bachelor's degree in Fine Arts. Eventually, she wants to become an art therapist — a career path she's surely more certain about pursuing after her "Orlando Strong" experience.
"I'm still in shock," she said. "I thought this painting would be just for me to express how I'm feeling. The fact that it touched other people makes me feel like the painting had a purpose, like I could do something to help those affected by this tragedy."