Fall 2021 classes begin, student services offering extended hours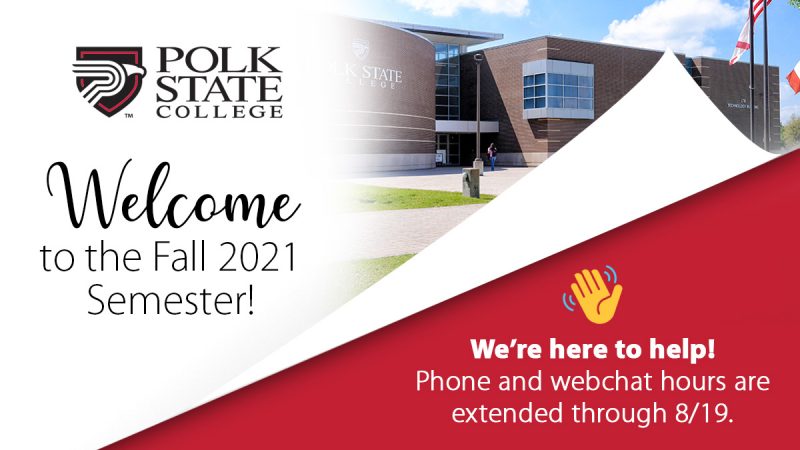 The Fall 2021 Semester has begun at Polk State College with the start of 16-week classes and FASTRACK 1 eight-week classes.
Enrollment continues to take place for 12-week classes that will start on September 13 and FASTRACK 2 eight-week classes that will start on October 13.
Students who need assistance with admission and registration will benefit from extended phone and webchat hours this week from August 16 through August 19, with services available Monday through Thursday from 8 a.m. to 7 p.m. and on Friday from 8 a.m. to 5 p.m. online and by phone. Students can email registrar@polk.edu, use the webchat in the bottom right corner of the Admission Page, or call 863.297.1000. Students can also visit the Winter Haven Administration Building (WAD) or Lakeland Technology Building (LTB) during regular business hours.
Anyone who is sick or experiencing any COVID-19 symptoms is instructed to stay home, not come to campus, and contact a healthcare provider. It is important to note that the College strongly recommends that all individuals, vaccinated and unvaccinated, wear masks or cloth face coverings while indoors on campus. Unvaccinated individuals also have on-campus opportunities to receive vaccination and can visit www.polk.edu/vaccine for more information. Additionally, enhanced cleaning and sanitation of College facilities continue to take place.
More information about services as well as the College's Return to Campus Plan is available at www.polk.edu/covid19. It is important that students and visitors review the Return to Campus Plan prior to coming to campus and follow Centers for Disease Control and Prevention guidelines closely.