FAFSA Opens for 2018-19 With Changes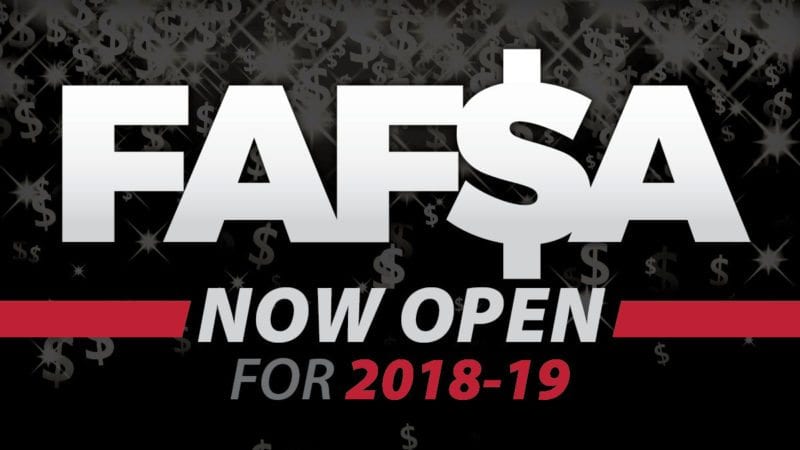 The Free Application for Federal Student Aid (FAFSA) for the 2018-19 school year opened this week and will be available until June 30, 2019.
That may seem like a lot of time before the final deadline to submit applications, but the U.S. Department of Education is urging students to get a jump start on completing their FAFSA forms.
The sooner students apply, the more money they are eligible to receive in financial aid at not only the federal level, but also the state and college levels. Federal, state, and college agencies each use the FAFSA to determine students' eligibility for financial aid, but distribute money differently and at different times of the year.
In addition to the ample amount of time to complete the 2018-19 FAFSA form, students will also benefit from the return of the IRS Data Retrieval Tool, which makes it easier and more secure to transfer tax return information from the IRS into fafsa.gov. Students who still need to complete the 2017-18 FAFSA form, however, will need to manually enter their tax return information.
Eight steps to filling out the FAFSA form and other FAFSA resources can be found on the U.S. Department of Education's blog.
Polk State College will hold the following FAFSA workshops to assist students with filling out their forms.
Students should bring their 2016 federal tax return, total untaxed income received in 2016, Federal Student Aid (FSA) ID and, if applicable, their parents' 2016 federal tax return, social security numbers, and dates of birth.
Winter Haven
WLR 235 | 4:30 p.m. to 6:30 p.m.
Nov. 2, 9, 16, and 30
Dec. 7 and 14
WLR 243 | 4:30 p.m. to 6:30 p.m.
Jan. 4, 11, 18, and 25
Lakeland
LTB 1154 | 4:30 p.m. to 6:30 p.m.
Nov. 7, 14, 21, and 28
Dec. 5 and 12
Jan. 2, 9, 16, 23, and 30
J.D. Alexander Center
JDA 213 | 4:30 p.m. to 6:30 p.m.
Nov. 1, 8, 15, and 29
Dec. 6 and 13
Jan. 3, 10, 17, 24, and 31