Eagles Welcome Youngsters, Earn "W"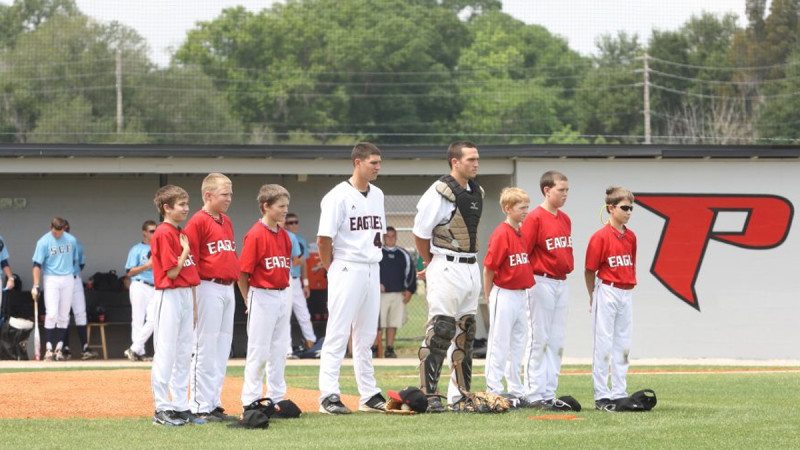 On Saturday the Polk State baseball diamond in Winter Haven was the site of "Fan Appreciation Day," as well as a special visit by the "junior" Eagles of South Lakeland.
Polk's Eagles earned a key 2-1 win over Suncoast Conference rival, State College of Florida, behind 8 2/3 strong innings from pitcher, Brian Johnson. In addition to the in-game highlights, however, the event featured some special pre-game moments, as the youth team sporting Polk State colors and logos joined "the big boys" for a pre-game workout, pep talks from Polk State coaches and some time in the dugout. In addition, the "junior" Eagles took the field with their Polk State counterparts for the national anthem.
According to Polk State's director of athletics, Bing Tyus, this was as big a deal for the College as it was the youngsters: "Anything we can do to inspire these young men to understand that their dreams of playing baseball go hand-in-hand with the work they do in school is hugel. I've coached many 11 year-olds who later went on to play for us at the collegiate level. But if they goof off in school, it won't happen. These kids we had out here today were impressive. It's great to see the support they have from their coaches and parents, and we're thrilled to have these young men wearing the red and black of Polk State."
Polk State coach Al Corbeil, his staff and players enjoyed the visit. And the win. "Our fans are great, and we will keep giving them a reason to cheer."