Eagles Spend First Day of World Series Travels Giving Back to Others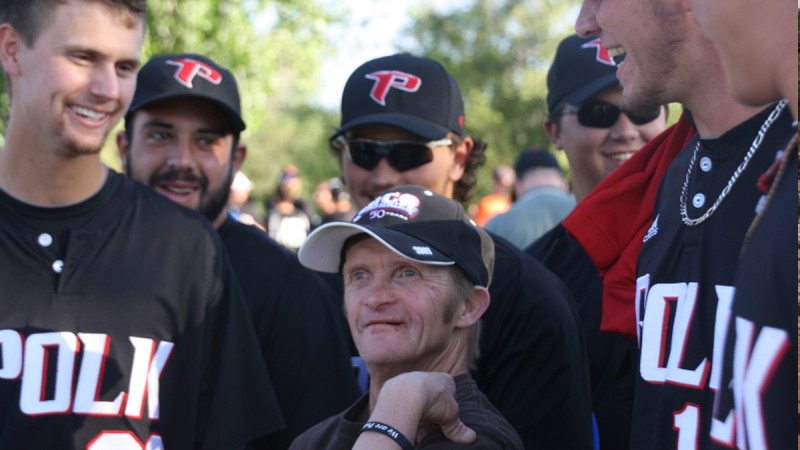 For members of Polk State College Baseball, their first full day in Grand Junction, Colo., was more about others than themselves.
The team, here to compete in the NJCAA JuCo World Series beginning Saturday at 5 p.m. (EST), began the day with practice and other tournament business, but by the afternoon was fully engaged with two events designed to better acquaint them with this city's adoring fans of junior college baseball.
The first event, the JuCo Youth Clinic, began at 5 p.m., at the city's Sam Suplizio Field. Radio commercials had promoted the event all day, and in the hours ahead of its start, children and parents around town were heard to say, "We're going to JuCo tonight!"
All total, 165 children ages 5-12 turned out, excited for lessons from the very coaches and players who will star in this week's tournament. It was the largest number of kids in the 12-year history of the clinic, said Kenny Johnson, an organizer of the clinic.
"It's great that the teams are willing to give back to our community," said Johnson, adding that all 10 teams competing in the tournament are represented in the clinic. "JuCo Baseball is such a tradition here, and it means a lot to the kids to be able to interact with the players they'll be watching all week."
Representing Polk State were Head Coach Al Corbeil, Colt Hankamer (RHP/OF), and Conor Szczerba (2B), who gathered at second base to give their young charges an introduction to making double-plays.
One of the young players, seven-year-old Michael Dible, who pitches for his Little League team, was especially impressed with Szczerba.
"He showed me how to get into position and make good throws," Dible said.
Midway through the Youth Clinic, the other Eagles headed to the Western Colorado Botanical Gardens, located on the southern edge of this town of 58,000. There, JuCo teams picnicked with 75 individuals served by Mesa Developmental Services, a nonprofit for those with developmental disabilities.
This was the first year for the MDS picnic, said Barbara Traylor Smith, a Rotary JuCo host and member of the MDS Foundation board of directors.
"They are huge JuCo fans," Smith said of those MDS serves. "The chance to come out here and interact with some of the players, it makes their whole year."
Eagles players and coaches — Corbeil, Hankamer and Szczerba came to the picnic following the Clinic — shook hands, took photos, signed giveaway Frisbees, gave high-fives — and, it was clear, made many new fans.
"It just feels great to give back," said Trey Norris (RHP).
Teammate Drew Reeves (1B/3B) agreed.
"We get to make them all happy," he said.
One of the Eagles' new fans is Tommy Chao, who brought a motorcycle helmet to the event for players to sign.
"He was so excited to come and get to see the players," said Tianna Thomason, a direct support professional with MDS who helped Chao make his way through the event. "Coming over here, he was really ecstatic."
Thursday's activities followed the Eagles' arrival in Colorado on Wednesday morning. The team landed in Denver, and then traveled by bus 250 miles west to Grand Junction. Along the way, they stopped — appropriately enough — in Eagle County, where several of the teammates saw snow for the first time.
"I'm trying to get over being here," said Reeves, for whom the trip provided not only his first experience with snow but also his first airplane flight. This is only his fourth trip outside Florida, the other three being to Alabama.
"I loved the takeoff. I just wanted to go faster. The view was great. I should have flown earlier in my life," he said.
The team's schedule on Friday includes practice, a banquet for the teams and a visit to Colorado National Monument, a National Park Service destination known for its red rock canyons.
"There are no words to describe being here," said Art Knight (2B/OF).