Eagles Fall in First Game of National Volleyball Championship, But Remain Positive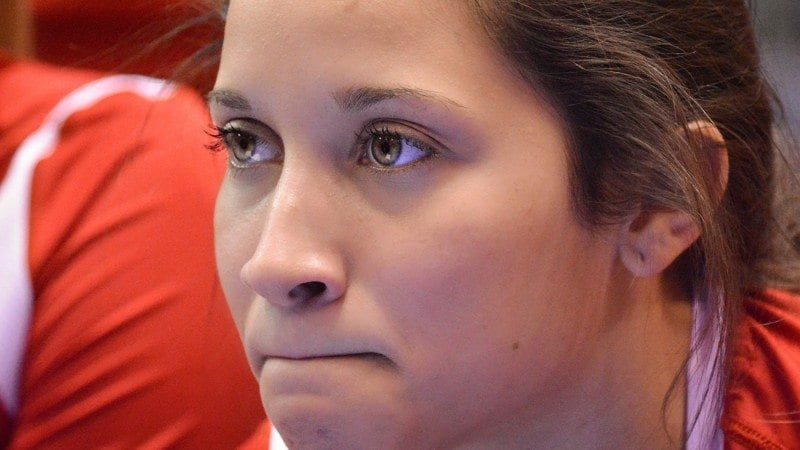 A day that started with high hopes ended in disappointment Thursday night as the Eagles saw their dream of a national volleyball championship come to an end.
 Miami Dade College defeated Polk State in the opening round of the NJCAA Division 1 Volleyball National Championship in Casper, Wyo.
After dropping the first two games (16-25, 20-25), the Eagles fought back to take the next two (25-20, 25-23), forcing a fifth game. In that contest, Polk State had a 5-4 lead, but the Sharks tied it 5-5 before pulling away to a 15-10 win.
The loss drops the Eagles into the consolation bracket of the double-elimination tournament, where they face Hill College on Friday at noon (2 p.m. EST). The highest Polk State can now finish is in ninth place.
 The day dawned sunny and full of promise. After a hearty breakfast, the Eagles spent an hour in a spirited team-building exercise. The coaches gave each player a piece of paper to stick to her forehead. Written on it was the name of an item that could be found at Walmart. Unable to see the paper on their faces, players took turns asking questions about the object until they arrived at the correct guess.
After the joking and laughter, Head Coach German Del Valle offered words of encouragement.
"The way you practiced yesterday, I feel confident we can win," he said. "We're a family. Day by day I've seen us become closer. We have good character, and we're surrounded by good people. We have support from everyone at the school, including the president and the athletic director."
Although the day ended with a loss, Del Valle remained positive. "I'm real proud of you guys," he told the players. "That was a great match. Down two games to none, we took Miami Dade to five games.
"We're one of only 16 teams in the nation that made it to Wyoming. The opportunity to be here is amazing. Let's come back strong tomorrow and win."
Eagles fans can tune in live Friday at 2 p.m. at NJCAA TV. Regular updates will also be posted to facebook.com/soareagles and via Twitter, @Polk_Athletics.