Eagle Baseball Brings Home Post-Season Hardware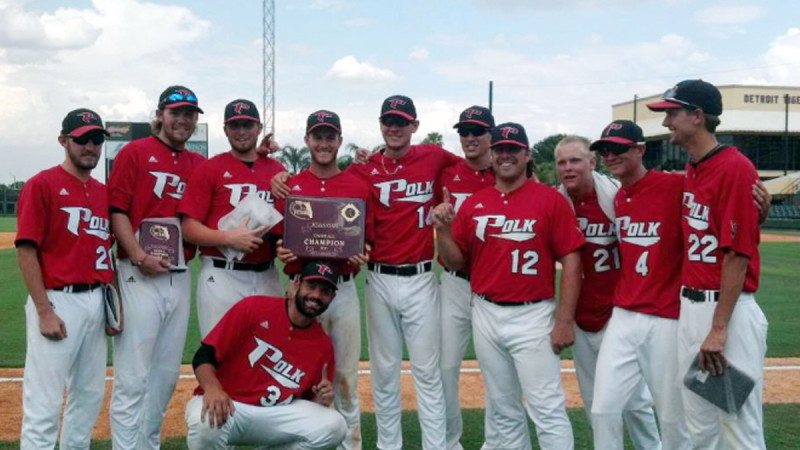 As Polk State Baseball readies for the NJCAA JUCO World Series later this month, it's also stocking the trophy shelves and rewriting the record books to reflect the outstanding 2011-12 season.
After its state tournament win over Palm Beach State on Monday, the team received a slew of awards from the FCSAA (Florida College System Activities Association).
Alec Asher (RHP), Michael Danner (OF), Brian Johnson (RHP), Brett Jones (RHP/OF), Ryne Knuth (OF), Matthew Singletary (3B/SS), and Conor Szczerba (2B) received FCSAA/NJCAA (National Junior College Athletic Association) Gulf District All-Tournament Team honors.
Jones (.410), Knuth (.410), Singletary (.400), and Danner (.350) were among the tournament leaders in batting average. Johnson ranked fourth among pitchers in opposing batting average with 0.136. Szczerba had a batting average of .320 and led the state tournament in stolen bases with three.
Asher also received the Robert Purkey, Jr., Memorial Award (Tournament's Outstanding Pitcher). He led the tournament with 13 strikeouts.
Moving to the coaching staff, Head Coach Al Corbeil was named FCSAA Coach of the Year. In his two years with the Eagles, Corbeil has a record of 88-22-1 overall. In addition to clinching the program's second state title and a berth to the NJCAA JUCO World Series, he has led the Eagles to back-to-back Suncoast Conference Championships.
Polk State College Athletic Director Bing Tyus also brought home some hardware. Tyus, who coached Polk's baseball team to its only other state title in 1992, received the FCSAA's Baseball Recognition Award at the start of the state tournament.
The Baseball program also broke a host of school records this season.
During the state tournament, Polk set a school record for wins in a season with 45. The Eagles are now 45-10 overall. The 45 wins tops the 2010-11 season, when the team went 43-12-1 overall.
In addition, Asher now holds the season record for most starts (16) and most innings pitched (104). While in Colorado, Asher also has the chance to add to his legacy. He is one win shy of the school record for wins and five strikeouts from the season record in that category.
Also, Szczerba now holds the school hit-by-pitch record with 22 and most runs scored with 64. He also tied a school record for stolen bases in a season with 39.
Danner tied the record for grand slams with two.
"I'm so proud of my guys and my coaching staff, they have worked really hard and done a tremendous job," said Corbeil.
The Eagles are now zeroing in on the national championship. The NJCAA JUCO World Series starts May 26 in Grand Junction, Colo.