Draft Dreams Come True for Eagles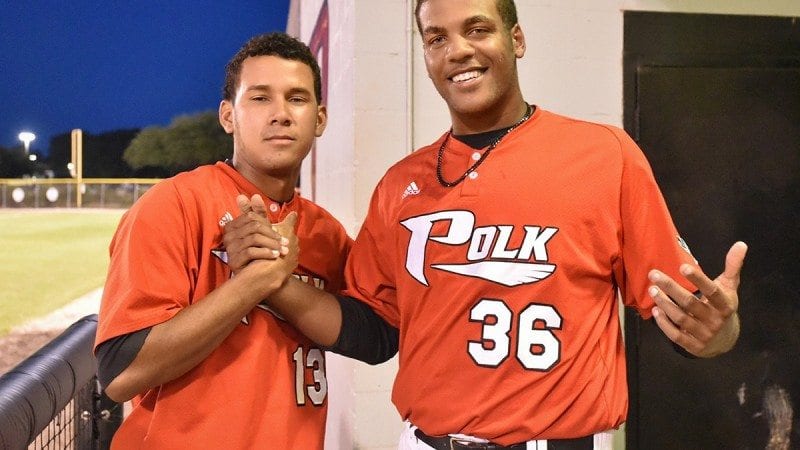 Polk State continues its tradition of having players selected in the annual Major League Baseball draft, as this year Jordan Guerrero, Maikor Mora, and Casey Schroeder were drafted by and signed with MLB teams.
The San Diego Padres picked Guerrero in the sixth round, while the Chicago White Sox chose Schroeder in the eighth round, and the Texas Rangers took Mora in the 29th round.
"I'm extremely happy for all three of them," said Head Coach Al Corbeil. "It's a tremendous honor to have your name called in the MLB draft.
Since he started at Polk State in 2011, Corbeil has seen nine of his players drafted by major-league teams.
"It's a big relief," said Guerrero, who played for the 2014-15 Eagles. "Ever since I was a young kid this has been a big goal. It's been a dream for a long time."
About 30 minutes before the White Sox selected Schroeder, a team official called to let him know of its intent.
"I was holding my breath, waiting, and then I saw my name on the board and was really excited," said Schroeder.
"This has been a dream of mine ever since I was a little kid. I was drafted twice before, but each time I decided to stay in school. This time I took it."
Growing up in Ohio, Schroeder rooted for the Cleveland Indians. Now he might get the chance to face them often, as the two teams play in the same division.
Guerrero has a good feeling about the Padres.
"I like the Padres because I made a real good connection with the area scouts," he said. "That personal connection makes me feel comfortable with the organization."
Corbeil wasn't surprised to see Guerrero selected in the sixth round.
"We knew Jordan was going to be picked fairly high in the draft," he said. "He really started putting it together the second half of the spring and was lighting up the radar gun, pitching in the mid 90s and touching 98 miles an hour. He is a fantastic young man, and he really bought into our program here and worked hard this year to achieve the success he had.
"Mora is a special kid with a phenomenal work ethic. I think he really opened more eyes in the state tournament when he pitched seven innings with 11 strikeouts and one run against Northwest Florida, the eventual World Series champions. His stuff was electric that night at 90-96 miles an hour. We were hoping he would get picked and get a decent offer and chance to start his pro career, which he did.
"Casey is one of the most athletic catchers I've been around. He has an above-average toolset defensively and offensively for that position.  I think the White Sox are going to be extremely happy with him for a long time."
Each player gives Polk State credit for helping him achieve his dream.
"Polk State helped significantly," said Guerrero. "When I came here I had three goals: to lose weight, to gain velocity, and to gain more baseball knowledge. The coaches were very helpful and I would not have been drafted without them."
"Polk State was very instrumental," said Schroeder, who played for the Eagles in 2013-14. "The biggest thing was Head Coach Al Corbeil. He worked with me and changed me into the catcher I am now. He and the other coaches were the biggest baseball influence in my career."
Looking back, Schroeder says, "The year I spent at Polk State was my favorite baseball experience and the most fun I've had in baseball.
"We started with an intensive strength and conditioning program in the fall and that brought the team close together. It's the closest I've ever been with a group of guys. We all worked hard and loved to play.
"Polk State was great to me. I plan on going back in the off-season to work out with the coaches and the players. I definitely want to keep in touch with Polk State for the rest of my life. "
Guerrero and Mora, who played for Polk State in 2014-15, have started their pro careers in the Arizona Rookie League. Schroeder is taking part in a White Sox mini-camp this week in Arizona and will join a White Sox minor league team the following week.