Disability Awareness Month Speaker: "Disability Is Just Different"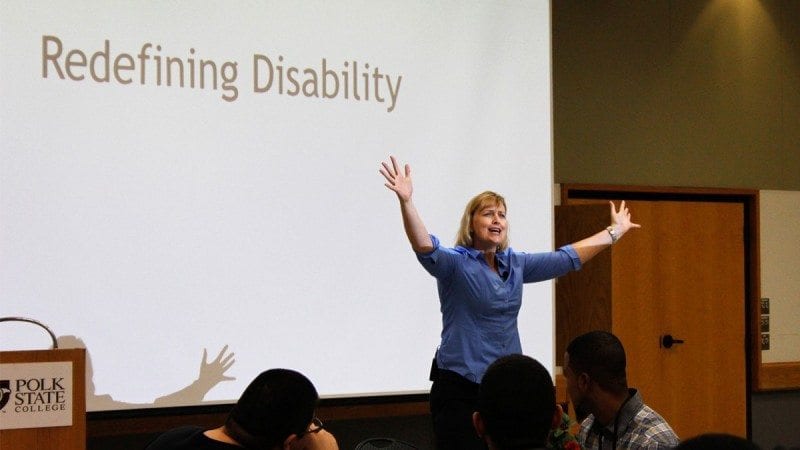 Polk State College concluded its 2015 Disability Awareness Month activities Thursday with a presentation by Tiana Tozer, who challenged her audience to "redefine disability."
"What makes you who you are isn't your disability, it's what's in your mind and heart and the choices you make," Tozer told the attendees of the lunchtime event at the Winter Haven Student Center.
In the 1980s, Tozer was a student and athlete at the University of Oregon. One day, she got into a car with her friends, crawled to the backseat, and neglected to put on her seatbelt. A drunken driver ran a stop sign and collided with Tozer's car. She was ejected from the backseat and struck by the other vehicle.
Physically, the crash left Tozer confined to a wheelchair. It took her four years and 34 surgeries to learn to walk again, and even to this day, she does so with a conspicuous limp. She is still unable to to run or jump but, ever the athlete, Tozer would go on to medal with the USA Women's Wheelchair Basketball Team in the 1992 and 1996 Paralympics.
Challenging as her physical recovery has been, Tozer said even more difficult to overcome have been the mental and emotional effects of her injuries. In the split-second it took for the two cars to collide, Tozer said, she joined a minority class, and ever since, people have related to her differently.
"I spent a year being really, really angry," she said. "It took me two years to realize that I was a second-class citizen because of how people treat me."
She recalled one night when she went out dancing in her wheelchair. Others came up to her on the dance floor and made comments like, "Good for you. It's good you're out of the house." One day, while shopping with a friend, Tozer wheeled up to the cash register and handed her credit card to the store clerk, who then turned to Tozer's friend and asked, "Would the lady like this gift-wrapped?"
Those types of interactions are examples of how able-bodied people relate to the disabled, Tozer said. Whether it's out of fear or pity, able-bodied people tend to see the disabled for their physical limitations, for what makes them different.
"People can be condescending. They talk down and expect nothing of me."
In the years since Tozer's injury, the country has adopted the American with Disabilities Act. Assistive technology is now commonplace everywhere from crosswalks to workplaces. Yet, there is much work to be done in changing societal perceptions of the disabled.
"You can't legislate an attitude change," she said. "You have to educate it."
Achieving said attitude change, Tozer continued, is the responsibility of the disabled, who must not set limitations on their lives because of their conditions, and the able-bodied, who must not expect less of the disabled.
"We don't need your pity or your charity," Tozer said. "We need your solidarity."
It's also necessary for society to reconsider what it means to be "disabled." For most, that word conjures images of people in wheelchairs, but many times, disabilities cannot be seen. In fact, in all likelihood, Tozer said, the assembled students and employees work or attend classes with someone who has a disability.
"Each and every one of us is different," she said. "We're not completely able-bodied or disabled. We have so much more in common with each other, so why do we try to relate to what's different about us?"
Tozer's talk was part of the College's annual recognition of Disability Awareness Month. Earlier in October, Polk State Early Childhood Education and Management Program Director Karen Greeson gave a presentation on autism.
Disability Awareness Month is one of several initiatives at the College to spotlight various areas of diversity within the community it serves. Other initiatives include Black History Month, Women's History Month, and Hispanic Heritage Month.