Congressman Soto recognizes Polk State's Yulonda Bell for Women's History Month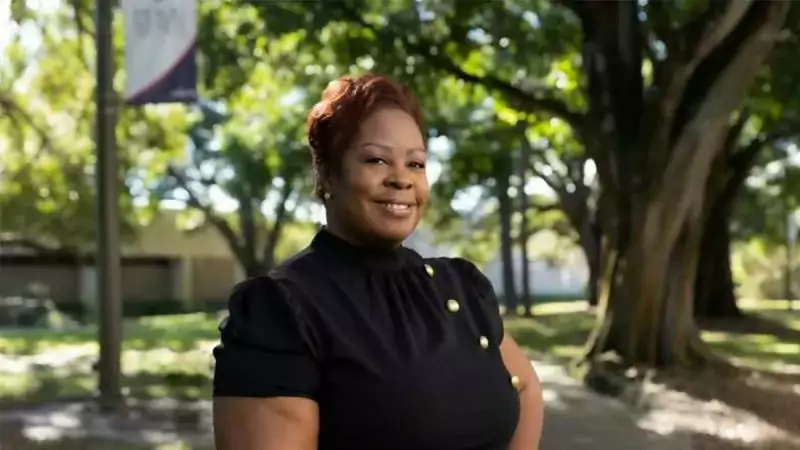 Congressman Darren Soto recognized Polk State College's Associate Dean of Student Services Yulonda Bell on the U.S. House of Representatives floor and during a virtual reception in honor of Women's History Month.
Bell's accomplishments and service to the community were celebrated alongside eight honorees, including Kissimmee Police Deputy Chief Betty Holland, former director of Polk State's Kenneth C. Thompson Institute of Public Safety.
In addition to the virtual reception, Congressman Soto read Bell's biography into the congressional record on the U.S. House of Representatives floor. Her biography will be entered into the U.S. Library of Congress.
"I was proud to honor nine incredible women from the district for Women's History Month. Women are the backbone of this country, and it's our job to build a nation that backs them," Congressman Soto shared. "It is my privilege to work amongst incredible women that help me learn and grow every day."
Bell was born and raised in Bartow. As a teen parent, she overcame obstacles to achieve her diploma and provide for her family. Her perseverance resulted in her achievement of an associate degree from Polk Community College, a bachelor's degree from Warner University, and a master's degree from Webster University. She first served Polk County Public Schools, followed by positions with the Florida Department of Children and Families, and ultimately Polk State College.
She was the first in her family to achieve a college degree, providing her with an understanding of the challenges that students of color and first-generation-in-college students face as they navigate higher education. Her personal experiences as well as her service to students have informed the types of support services that are provided at Polk State.
In addition to her service to the College, Bell invests her time as a volunteer for the City of Winter Haven Juneteenth Celebration, the City of Winter Haven's Martin Luther King Committee, the Neighborhood Service Center, and the Lift Lakeland initiative to improve race relations and expand economic, education, and civic involvement.
She lives by Maya Angelou's quote, "People will forget what you said, people will forget what you did, but people will never forget how you made them feel," each day as she plays an important role in supporting students and celebrating their achievements.
"Associate Dean Bell is a shining example for Polk State's students and a servant leader whose diligent work and dedication continue to transform the lives of those she encounters each day," Polk State President Angela Garcia Falconetti said. "She is well-deserving of this national recognition and her Polk State family is very proud."