Community Based Learning Faculty Fellows Program: Fostering Reflection, Collaboration, and Connection Across Campus and the Community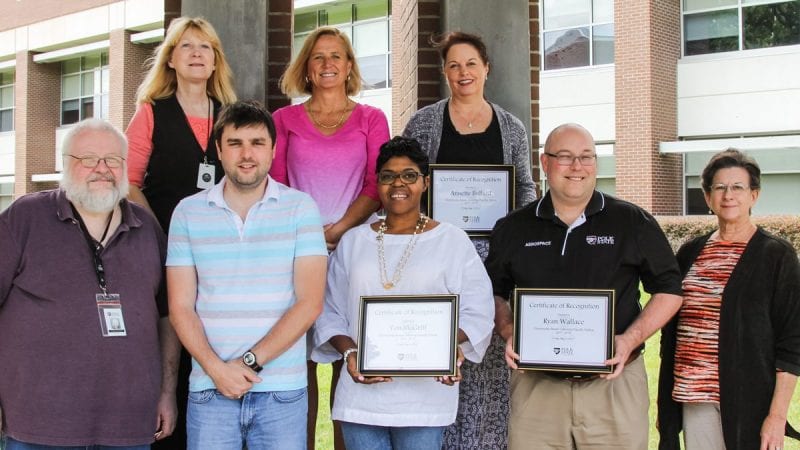 Polk State College is proud to announce this year's recipients for the 2017-2018 Community-Based Learning (CBL) Faculty Fellows Program. The CBL Program supports faculty members interested in integrating community-based learning into their coursework. Criteria for the program is competitive.
This year, four Faculty Fellows (two from the Lakeland Campus and it affiliated centers, and two from Winter Haven Campus and its affiliated centers) have been selected to receive a stipend of approximately $2400.
As part of this award, each Faculty Fellow will have the opportunity to:
Participate in a one-day orientation and workshop in May 2017.
Develop a community-based learning activity or project that can be integrated into a currently offered course.
Implement the activity into the course during the fall 2017 Semester.
Present the outcomes of the community-based learning activity during a professional development session in the spring 2018 Semester.
Mentor a faculty member selected as part of the next Faculty Fellows cohort (Spring 2018 Semester).
Attend the Community-Based Learning (CBL) Recognition Ceremony in the spring of 2018.
This year's Fellows are:
Ryan Wallace                                             Aerospace
Michelle Manzi                                          Music
Von McGriff                                                 First-Year Experience
Annette Bullard/Anjali Parti               OTA Program
"I am truly honored to be representing Polk State College as a CBL Faculty Fellow," said Professor of Music, Michelle Manzi. "I am excited about working closely with our Polk State students to connect and engage the community of younger students in our area to have a collegiate-level artistic experience in reading and performing standard choral literature. Performing music is such a powerful, emotional experience. To be able to read and understand it adds depth and dimension to that experience."
Manzi continued, "I have two reasons for implementing this program. The first is musical literacy; this program will help mentor younger students in their development of reading music by having music "buddies." A Polk State College student will be paired with a younger music student to read and learn selected choral literature."
"The second reason for the program is to provide a collaborative musical performance opportunity. The songs learned will be performed by the "buddies" together in a public concert. I believe that both the Polk State College Student and the younger student will learn about the importance of reading music, and experience the impact that music can have in bonding individuals together," Manzi explained.
"I am very humbled to have been selected as a CBL Faculty Fellow," expressed Ryan Wallace. "Polk State's Community Based Learning initiative provides a great mechanism for students to practically apply the skills they have learned in the classroom through service projects in their local communities.  For my project, students will pilot unmanned aircraft to demonstrate their potential applications and capabilities to local organizations for non-commercial, public service uses. Working in partnership with Tampa-based Turin Aviation Group, our students will have the opportunity to gain valuable UAS flight experience, data analysis, and problem solving skills based on real-world industry challenges.  The experience not only prepares our students to be successful in the industry, but also develops a sense of community and selfless service, making them better citizens."
Von McGriff, Professor of College Success, is also thrilled to be part of this selection.
"I consider my selection as a CBL Faculty Fellow to be an honor," McGriff shared. "I am excited to know that the committee is willing to support my vision for involving and engaging our First Year students with the community. As a professor for the First Year Seminar course, I hope to give students direct experience with issues we discuss in the course and to hopefully acknowledge, analyze and solve problems/issues in the community. The ultimate goal is for the student to understand the importance of community relationships and that working with community partners is good preparation for citizenship, work, and life."
Annette Bullard, Coordinator of Clinical Education, Occupational Therapy Assistant, will share the responsibility of the OTA community learning project with Anjali Parti, Interim Program Director for the Occupational Therapy Assistant program.
"I am extremely honored to have been selected as the CBL Faculty Fellow," Bullard shared. "The goal for the OTA CBL fellowship is to develop a learning model for the OTA students within the community, while providing a beneficial service to the community. This will provide the OTA students with the opportunity to apply concepts, analyze therapy interventions and appraise outcomes in a symbiotic environment between the OTA student and our community."
______________________________________
Community-Based Learning (CBL) at Polk State College is not just about community engagement or experiential learning. In fact, the CBL Program fosters reflection, collaboration, and connection across the campus and community by implementing interactive educational activities. This methodology links direct experience with analysis and critical reflection. It is designed to support inquiry and action inside and outside of the curriculum. At Polk State, community-based learning opportunities add complexity and urgency to students' critical grasp of social, political, and cultural issues by connecting the intellectual rigors of academic study with the needs and expertise of the community.
Getting to a strong and collaborative CBL Program at Polk State has been a two-year process. In the spring of 2015, eight representatives of the College, including faculty across numerous departments, staff, and administration, attended an engagement institute to walk through the CBL planning process. This collaboration produced a framework that was added to the curriculum at Polk. Over time, the idea built stakeholder buy-in as volunteers were selected to implement the program components. The College selected five Faculty Fellows to integrate the CBL model into their coursework. The Fellows were awarded a stipend and encouraged to develop course connections aligned with CBL processes. In its inaugural year, several organizations partnered with Polk State faculty members to identify community issues that could benefit from student interaction and involvement. Among those were:
The Mission of Winter Haven — Faculty Member: Linda Schaak, Professor of Nursing

Students worked with vulnerable populations to conduct health checks and make referrals.
Healthy Eating Project with the Public Education Partnership, Meals on Wheels, Agape Food Bank, First Presbyterian Church of Winter Haven Soup Kitchen, India Pentecostal Church of Florida, and the Circle of Love Soup Kitchen in Auburndale — Faculty Member: Logan Randolph, Professor of Science

Students learned about hunger issues and explored ways to effectively feed low-income families.
Supervisor of Elections — Faculty Member: Richard Decker, Professor of Mathematics

Students discussed the importance of voter registration and collected data relevant to the 2016 Presidential Election. Statistical tests identified underrepresented voting groups that the elections office could encourage to vote.
Volunteers in Service to the Elderly — Faculty Member: Carol Martinson, Professor of English

 Students met with and interviewed senior adults four times throughout the semester, built relationships, and used their writing skills to document the seniors' life experiences.
Natural Resource Division of the City of Winter Haven — Faculty Member: Natalie Whitcomb, Professor of Science

Environmental Science students collected tree data that could be used to make informed decisions about increasing tree diversity in parks. Oceanography students sampled local lakes for micro-plastic pollution to provide data for the city to utilize in its water quality data reports that are shared with the Florida Agricultural Service (IFAS).
The inaugural year of the Community-Based Learning Program has produced exciting benefits for the College including building positive relationships between students and faculty, and fostering community spirit and engagement. It has also increased student learning and development, and heightened the educational relevance of traditional coursework.
"I have truly enjoyed the experience and am proud of what my students did in the community-based learning section of ENC 1101 College Composition I this past year," said Martinson. "My class worked with and wrote about elderly partners that we met through VISTE and the Presbyterian Apartments.  The students learned compassion, kindness, and about a time in the world that they were not a part of simply because they weren't born yet. From the experience, the elderly partners had company, friendship, and got to share their stories — not to mention, we served them lunch! Even though the fellowship ends this year, I will definitely continue the project next year. It is a valuable way to bring the course to life."
Logan Randolph's BSC 1011C Principles of Biology II and ANT 1000 General Anthropology classes worked on projects related to food insecurity in Polk County, which has been ranked as the second-worst food desert in the United States.
"Every faculty member I know who is incorporating community-based learning into the classroom has great things to say about it," Randolph said. "Our county has multiple agencies and individuals working to overcome food insecurity issues, so my students were able to work in quite a range of situations. I've yet to find a student that wasn't personally impacted by what they learned first-hand, and quite a few have committed to continue working with our community partners beyond the end of the term. Each student wrote a reflection paper regarding their experiences, and many of those nearly brought tears to my eyes and made me proud that Polk State is pursuing community-based learning as part of our mission."
Professor Randolph's students shared the following about their experiences:
"While I have had some volunteering experiences, I can honestly say that volunteering at the Agape Food Bank has been one of the most rewarding and important things I have done in my life."
"I proceeded to go to the door, and when the door opened I was greeted by an elderly woman who was so thankful for me bringing her a meal. We then went on to our other stops, and I was greeted with the same reaction every time the door opened."
"The stories participants tell to me amaze me. Every time I visit there has been a connection. Once I graduate college and am established, I plan on donating a portion of my income to Meals on Wheels if my finances allow that. I have recruited two of my friends to assist the program over the summer and am looking to recruit more drivers."
"This project genuinely had a great impact on me. Overall, the word that I would use to describe this experience would be: 'humbled.'"
"I plan on volunteering next school year as well. By making connections with these individuals, I feel that I am sincerely making a difference in Polk County. I am also interested in raising money to give to one of the organizations that I worked with."
For Richard Decker, his students could not have had a more engaging experience, especially as politics was at the forefront of the 2016-2017 Academic Year.
"Students are exposed to hundreds of daily polls, but rarely have an opportunity to deeply reflect on the important issues at hand," Decker explained. "For the community-based learning section of STA 2023 Introductory Statistics, we actually found out what students think, not only by answering the questions on our poll, but also by writing the questions too! Both the students in the class who wrote the questions and the rest of students at Polk State who answered them, were made to engage in a way that may stay with them as they navigate the maze of life. After all, a good democracy has aware and active citizens!"
While not an official CBL Fellow this past year, Professor Natalie Whitcomb has been incorporating community-based learning into her classes for the past six years. This spring, her EVR 1001C Environmental Science class worked on an urban forestry project for the City of Winter Haven. During the fall of 2016, the class, along with this semester's OCE 2001C Oceanography, students participated in the Florida Micro-plastic Awareness Project. Polk State was the first institution of higher education to look at micro-plastic pollution in the lakes in Polk County.
"I teach Associate in Arts students who will not major in science," Whitcomb said. "My classes may be their only exposure to science on the college level. I use CBL-activities rooted in local issues to help my students understand the nature of scientific literacy and how scientists think. The local nature gives the projects personal importance. In their final reflection papers, students comment on the fact that science is a way of thinking and they can use science to solve problems. They often had never thought about science within this context. They say they learn from the hands-on experience, they build knowledge through their conversations while working on the project, and they place value on the fact that local scientists come out to work with them. Also, students begin to understand the need for local civic involvement through the project. Many of them express the sentiment that we need to be involved in community affairs. Working on a CBL project helped them to understand this."
While community-based learning is not a new concept, Polk State is finding new and innovative ways to incorporate the model into its curriculum. The result is more engaged students, collaborative community partners, and education that is relevant and inspirational.