Commencement Countdown: Promises Fulfilled, Lifetime Goals Achieved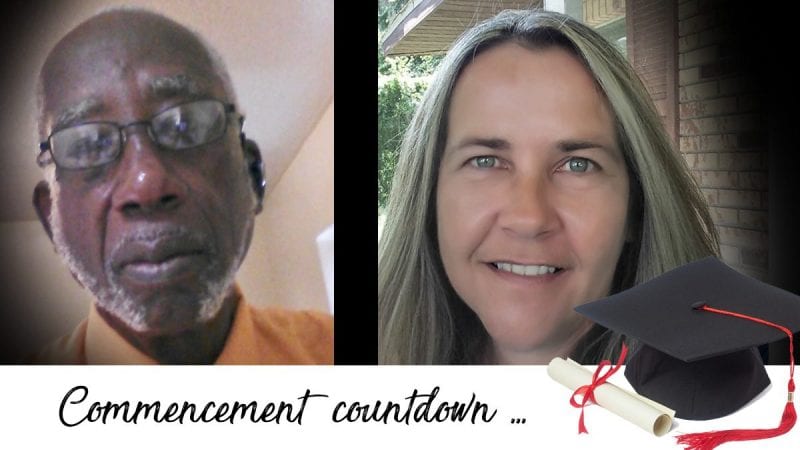 Renee Winton, Dedicated to Fulfilling A Promise
Renee Winton made a promise to herself almost 30 years ago— to earn her Associate's degree. At 49, on May 4, she will take the stage and fulfill that promise.
Getting to this point, however, hasn't been easy.
Enrolling as an international student at Polk Community College in 1984, she earnestly began taking classes and becoming involved in college life. However, in the spring of 1986, Winton decided to "take a semester off" to plan her wedding. Newly married, Winton soon became pregnant and opted to focus on family life. Two children later, a divorce, new jobs and a second marriage, in 2015, Winton was ready to keep her promise and enrolled at Polk State.
"I made a promise to myself to go back to school after my kids graduated high school," she says. "I didn't say how soon after but I always keep my word. Being the oldest in the class as opposed to being the youngest when I started at 16 years old in 1984 has not been easy, but it has definitely been rewarding."
Taking classes in Winter Haven, Lake Wales and online while continuing to work full-time, Winton has successfully accomplished a goal she set for herself. It has also energized her desire to achieve even more success in her professional life.
"I was recently told by a member of the Senior Management of my company that a college degree still affects hiring and/or promotion decisions," she shared. "Although she knew my abilities, talents and dedication to making the company stronger, she encouraged me to continue my education if I wanted to continue to advance."
For Winton and her family, Polk State has been an ideal place to pursue their education.
"As I recall, both of my children attended Polk State College as dual enrolled students from Winter Haven High School in the early 2000's," she recalled. "They went on to graduate from the University of North Florida. Now, it is time for me to honor my promise. I would not be here without their support and encouragement."
After graduation Winton plans to take a short break before determining her next steps. Her advice to anyone making the decision to return to school?
"People respect you when they know that you will do what you say you will do," she shares. "I said I was going to get my degree. It took a long time, but I did it. Don't give up on yourself."
From Flying Out of Airplanes to Polk State Graduate, Student Robert Scott Has the Courage to Soar
Born in Winter Haven, Florida in 1946, Robert Scott has never been afraid to fly— whether out of airplanes or as a student returning to college. On May 4, he will graduate, almost 48 years after taking his first class at Polk.
Directly after high school, Scott was drafted into the United States Army. He served from 1965-1967 and spent the year of 1966 in Vietnam. Serving with the 82nd Airborne division, Scott was a paratrooper frequently utilized to parachute into complicated operations and usually functioning as part of the airborne force.
"I flew more than fifty missions," recalls Scott. "I loved it. It was a mission; it was a thrill, and I loved serving in that capacity. I was never afraid to complete an operation."
At the end of his military career, Scott utilized his VA benefits to enroll at then Polk Junior College where he was asked to join the basketball team, playing from 1969-1971. Since he proved himself a standout athlete in high school and at Polk, recruiters from Fredonia State University in Fredonia, New York soon came calling, offering a full basketball scholarship.
Surprisingly, Scott did not go.
"To put it bluntly, I was 'stuck on stupid'," said Scott. "I had a chance to play basketball, to pursue my education and all I could think about was snow. Being a Florida boy, I could not consider moving what felt like a million miles away to live in snow. I gave up my big chance and I have thought about it often."
Putting a hold on his education and potential basketball career, Scott joined the workforce.
"I did a lot of things for the next several years of my life," he says. "I was a million-dollar insurance salesman, worked for Sherwin Williams, and had my own business for a time. But still in my mind, I wondered what I was missing."
For Scott, the answer came through his service as a mentor. Joining forces with several men in the community, Scott became a mentoring leader with Adopt a Hallway, a mentoring program at Winter Haven High School. It was during this time that Scott began to consider returning to college to obtain his degree.
"While I was mentoring students, I realized that some of them were not considering college," he says. "In order for me to set the best example, I needed to consider obtaining my degree. I wanted them to see how important an education was to their future."
Scott enrolled at Polk State at the young age of 69. The transition was a bit challenging as he had to learn new skills, especially in technology— computers, copy machines, and calculators.
"I struggled a bit at the beginning," Scott replies. "But I was lucky to have amazing professors and classmates who were willing to help me out on occasion. The relationships I built will stay with me long after graduation."
College also became a place for Scott to engage more intently with his true passion— mentoring young students.
"The future of our country lies in our children," he shares. "I enjoy learning from and listening to young people. Every student has the potential to be more than they imagined. It's why college was so important for me. I wanted them to see that if I could do it, they could too."
Indeed, Scott joined the Polk State Brother 2 Brother group and soon became even more involved by serving as the organization's Community Liaison.
"In 1969, Polk Junior College was the best in the nation," he says. "In my opinion, Polk State College is still the number 1 college in our state. It is the best place to get your education— close to home, affordable, accessible, and all students should take advantage of the education you can get here."
In addition to Brother 2 Brother, Scott serves as the National Chaplain for the TripleNickle
555th Parachute Infantry Association, Vice President of the NAACP, and as a member of the Advisory Councils for the Winter Haven Police Department and Polk County Sheriff's Office.
Robert Scott has certainly taken advantage of every opportunity he has been given and he doesn't seem to ready to stop yet. On May 4, he will walk and celebrate his achievement with his friends and family.
In addition, he will use his experience to mentor and inspire students throughout Polk County.
"I always say 'opportunity is wherever I am' meaning you just have to take advantage of the things in front of you," Scott shares. "I could not be more excited to earn my degree. I encourage all to be present. Enjoy the moment. Think before you leap, but don't be afraid to take the chance. I will graduate and you can too. Don't give up on you; you can do anything you set your mind to, I'm an example of that."