Commencement Countdown: Honoring the Memory of Wayne Michael Robertson—Father, Friend, Polk State Graduate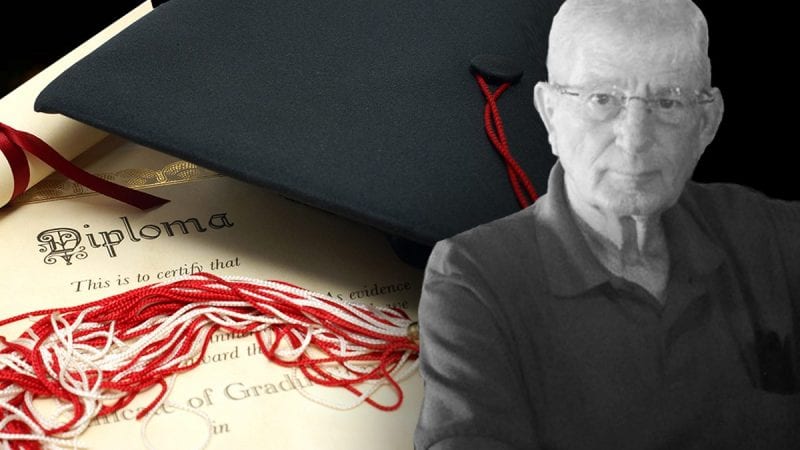 Surrounded by his dearest family and friends as they applauded and shared in his accomplishment, Wayne Michael Robertson received his Polk State Associate in Arts degree with a cum laude distinction. Just a few days later, he would lose his battle, leaving behind a beautiful and inspiring legacy.
"Polk State College gave my family a gift that we will never be able to repay," said Robertson's daughter, Karen Brown. "Giving my Dad his degree on his death bed was a remarkable and moving experience. I am forever grateful."
At the 116th Polk State College Commencement on May 4, Robertson will be listed among his peers. While he will not walk the stage as so many will do, his passionate pursuit of his degree will be honored and remembered as his name is called.
Wayne Michael Robertson passed away in March 2017. He was 71 years old. His family remembers him as a smart, well-read, hard-working gentleman whose life priorities centered on his family, his friends, and ultimately, his education.
He had many interests, but was deeply passionate about drum corps, baseball, and college football. He was a self-taught musician, playing the bugle in a drum corps for most of his life in New Jersey and New York. In 1992, he was recognized as the Drum Corp Associate's (DCA) soloist of the year, the same year he actually learned to read music.
Robertson's love of music, sports, and travel combined with an adventurous spirit and a strong commitment to family— daughter Karen, and grandchildren, Hunter, Lauren, and Zoe. Sporting seasons meant reliable texts to his daughter about particular football games, and avid anticipation of baseball games when visiting Texas.
"Everything my Dad did, was for his family," Brown said. "He would travel with my son, Hunter, and would spend a month caring for my daughters, Lauren and Zoe. He enjoyed spending time with them, loving them, encouraging them, and just being an example of kindness and joy. He was especially excited when Hunter began college at The University of Mississippi."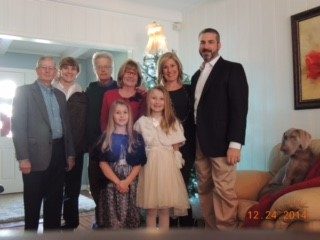 Graduating from Hialeah High School in 1968, Robertson spent a short time at the University of Arkansas. Life circumstances, however, prevented him from continuing his college degree and it left a sense of regret that stayed with him for years to come. It was a feeling that would motivate him to encourage his own children.
"My dad spent his working life in the blue-collar industry as a painter and wallpaper hanger," Brown said. "He worked very hard and many long hours for his family, ensuring that we never were without. Most importantly though, he wanted to secure our future by providing us with the opportunity to go to college and get an education. He spoke about this often."
Retiring in 2002 from his professional life, Robertson found himself slightly bored and itching to get involved in something bigger. With a sharp mind for logic puzzles and books, the allure of college remained on his mind. He finally asked himself, "Why not?" and began classes at Polk State in January of 2015.
"He really wanted that degree— the piece of paper to put on his wall," Brown said. "My dad was wicked smart–the smartest man I ever knew. He had a gift for learning, so college just made perfect sense."
Getting his degree was not an easy task. Never formally diagnosed with dyslexia, it was as an adult, when the family discovered that two of his three grandchildren were dyslexic, that he began to notice that he had all of the same difficulties and struggles. Even still, he persevered, taking a full course load at the Winter Haven Campus with an eye on obtaining his degree.
"I have always admired my dad," Brown shared. "One of the biggest and most life-changing things that happened to me resulted from of my Dad's commitment to go back to school." She continued, "I am currently enrolled at Tarleton State University pursuing a doctoral degree. Going back for this degree was always on my list. When my dad started back at school, I thought, 'What am I waiting for?' We spoke weekly about assignments we were both working on. I would call him on a Sunday complaining and procrastinating about a paper I had to write, and he would say to me, 'Well it's not going to write itself!'"
In the last hours of Robertson's life, Brown was able to personally show him his degree from Polk State College. As she recalls, "He had tears in his eyes, and I have never seen him so proud. He made me promise that I would not stop until I had my doctoral degree in my hand. I assured him I wouldn't, and I also told him that when I walked across the stage to receive my degree, I would have his in my hand too."
Robertson's inspirational story gives light and hope for students pursuing their own educational dreams.
"My Dad wanted nothing more than to achieve this dream," Brown shared. "If he were here and able to walk across that stage on May 4, I know he would encourage his fellow students to 'remember that nothing worthwhile in life comes easy; if it is worth doing, then it is worth doing right; live every single day without regrets; and always, always color outside the lines.'"
Wayne Robertson's example of a life well-lived is an inspiration to all. Though he will not walk the stage with his fellow graduates, today and always, his legacy lives as a loving and kind father, spirited and adventurous friend, and fearlessly committed Polk State Eagle. Robertson is one of us–and We are Polk.