Black History Month scholarship recipient aspires to become a nurse like those who cared for her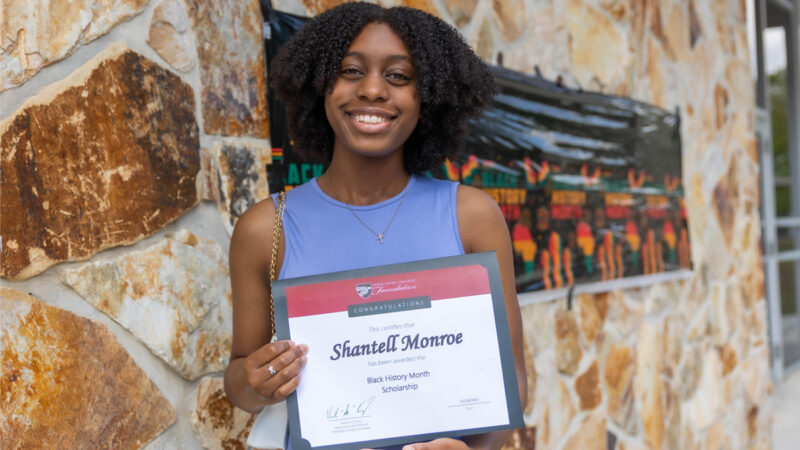 Shantell Monroe received a scholarship on Tuesday in honor of Black History Month, which will contribute to her education and training at Polk State College. She aspires to become a skillful and compassionate nurse like those who once cared for her as a child who suffered from respiratory issues.
"As a result of this training, I will be able to help people believe in themselves and to not feel defeated no matter what health obstacle they may encounter," Monroe shared. "I chose to become an RN because I want to be in one of the most rewarding nursing positions available.
"I am happy in knowing that I will be doing my part in making a difference in the world," she added. "Receiving this scholarship will help guide me to become an amazing RN."
The Polk State Foundation presented Monroe with her award during the College's Black History Month finale celebration.
Monroe, a first-generation student, is in the second semester of the Associate in Science in Nursing Program and plans to pursue Polk State's Bachelor of Science in Nursing. She is interested in working with patients with developmental issues or in a hospital's intensive care unit.
"Healthcare has always been an interest of mine because I've admired how brave and efficient nurses are since I was younger," she said. "Being a patient in the hospital when I was younger due to respiratory infections allowed me to view the nurses as role models."
She expressed that Polk State Nursing is rigorous. The scholarship will provide some financial relief for her as a full-time student.
"The nursing program is high paced…, I learn a variety of information that puts me on the right path to become a great nurse," Monroe said. "Receiving this scholarship [will] allow me to focus on the information I am learning in the program instead of on how I will pay for my classes."
Donations can be made to the Polk State Foundation online at foundation.polk.edu to support students like Monroe.