Big City Scene: Polk State Hosts Renowned Musicians for Free Concert, Encore is Saturday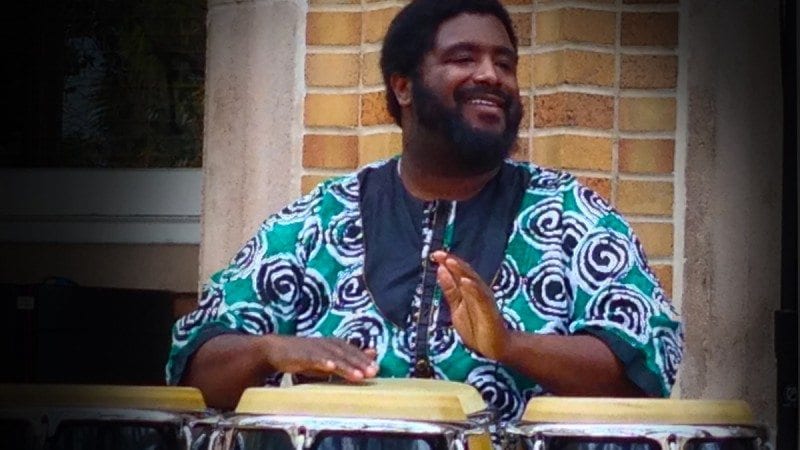 Standing outside the Polk State JD Alexander Center in downtown Lake Wales on Wednesday afternoon, if you didn't know otherwise, you might have guessed you were in San Francisco or New York City.
On the stairs of the building, under the limbs of its iconic oak tree, a pair of renowned musicians gave a free concert. On the sidewalk, kids danced. Moms swayed their babies. Others just relaxed, enjoying a little music with their lunches.
It all made for an afternoon rich with culture and steeped in community togetherness. Just as planned.
"These are incredible, versatile musicians who are touring all over the country right now," said Osubi Craig, director of the Polk State Lake Wales Arts Center, which sponsored the performance.
"This is music that is hard to see even in big cities, but today we get to have it right here in Lake Wales."
Wednesday's concert featured Weedie Braimah and Amadou Kouyate, who've spent their lives playing the instruments and music of West Africa. Braimah is known as a master of the djembe, a West African drum, while Kouyate expertly strums the kora, a 21-string instrument similar to a sitar.
The two musicians collaborated for an hour during their concert outside the Polk State JD Alexander Center, where about 100 people gathered to listen.
Among those in the audience were 16 students who participate in the world-drumming ensemble at Janie Howard Wilson Elementary School in Lake Wales.
"We play some of these instruments in the classroom, so I wanted the students to have the chance to see them played in a professional realm," said Music Teacher Micky Caban.
"By bringing them here, they get to have an authentic experience outside of what I'm able to give them in class."
The Braimah-Kouyate concert was just the latest Polk State Lake Wales event Caban's students attended. Earlier this month, her students heard acoustic guitarist Chris McCarty. They also recently attended a workshop with Irish music group Colcannon.
"These events are showing them that there's a world outside Janie Howard and Lake Wales," Caban said. "They're becoming more motivated and inspired to create their own music."
The community will have a second chance to experience the music of Braimah and Kouyate on March 1. The two will give a class in West African percussion and dance at 10 a.m., and an encore performance from 7 to 9 p.m.
Both events are free, open to the public, and will take place at the Polk State College Lake Wales Arts Center, 1099 State Road 60 East. For more information, call 863.298.6883 or email LWAC@polk.edu.