APPLY NOW: Federal relief funds make education possible for Polk State students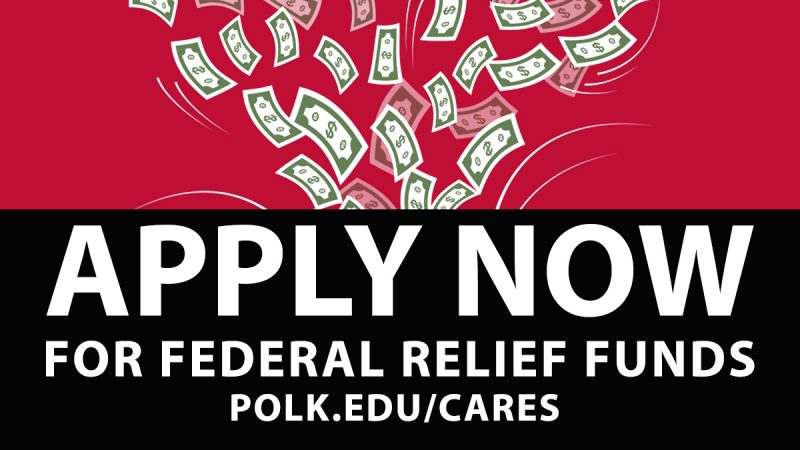 Emergency financial aid grants awarded through the Higher Education Emergency Relief Fund (HEERF) are keeping Polk State College students on track to achieving their higher education goals by covering the cost of their classes, and an application for HEERF funds for students enrolling for the Fall 2021 Semester and Spring 2022 Semester is now available online at www.polk.edu/cares.
Polk State received nearly $18 million in federal COVID-19 relief funds to be invested in emergency aid for Polk State students. The College has been working closely with students enrolled for the Summer 2021 Semester to offset the cost of tuition and fees after other federal aid and financial aid resources have been exhausted, and federal relief funds are earmarked to assist students over the next two years.
Students have shared the positive impact these funds have had. In many cases, they have expressed that the grants — which do no need to be paid back — are making it possible for them to continue their classes during this unprecedented time.
"Now more than ever, students are struggling to balance life expenses with the cost of their education and workforce training," Polk State President Angela Garcia Falconetti said. "The College is pleased to offer these funds for students to apply toward their education as they persevere toward their degrees and certifications."
All Summer 2021 Semester Session 1 students have been considered for funding awards. Awards for the summer semester's Session 2 are under review.
"To say I am grateful would be an understatement," Polk State Criminal Justice student Jayceon Meo expressed. "I am a brand-new dad to a 4-month-old boy. My wife and I finally got an apartment in January. She was no longer employed due to COVID-19…, we are barely scraping by. I am so thankful for the opportunity that was given to me by receiving this grant."
Polk State Education Preparation Institute (EPI) student Tanya Hoke shared a similar situation. She recently had her fourth child and wondered how she would be able to afford the courses she needed to achieve her teaching certifications as a teacher with a non-educational degree.
"My certification is currently in review for an extension all due to maternity leave," she explained. She needs to complete classes but couldn't afford to take more than one course this summer. "Then I received an email that Polk State was using funds to help students! I went for it! I added additional education classes that I was going to try to cram together in the fall, and the balance said $0.00!"
"The assistance has helped me tremendously," she added. "Thanks to it, I can take more classes while on summer break instead of while I teach high schoolers in the fall."
That $0.00 owed has been a relief for many.
"I thought it must be an error, and then received the happy news from the College," Polk State Bachelor of Science in Nursing student Sandra Preziosi exclaimed. "As a single person working full time as a Registered Nurse, finances are sometimes a little too close for comfort. Earning my bachelor's degree in nursing will hopefully give me greater options for more income. Taking this semester's cost from my shoulders is a huge help."
Sandy Ubieta, who is pursuing a Polk State Bachelor of Science in Supervision and Management with a concentration in Business Administration, echoed a similar sentiment.
"If it was not for HEERF, I would have been struggling to pay for my summer classes," she said.
Ubieta is the first in her family to attend college. She explained that one of her parents did not have the opportunity to finish elementary school.
"I am truly thankful…, I come from a household in which no one really had the chance to go to school because of their financial situation," she expressed. "I hope you guys continue to keep helping others like me."
Polk State College will be offering HEERF funds to offset the cost of tuition and fees for students enrolling for the Fall 2021 Semester and Spring 2022 Semester. Students are asked to complete the application form which can be accessed here. All students will be considered for funding with a completed application. More information is available at polk.edu/cares.
"Polk State is investing COVID-19 relief funds in students' futures," President Falconetti said. "This investment will assist our students in reaching the finish line and obtaining rewarding careers that benefit them, their families, and our community."