5 questions with Capt. Bart Davis, director of KCTIPS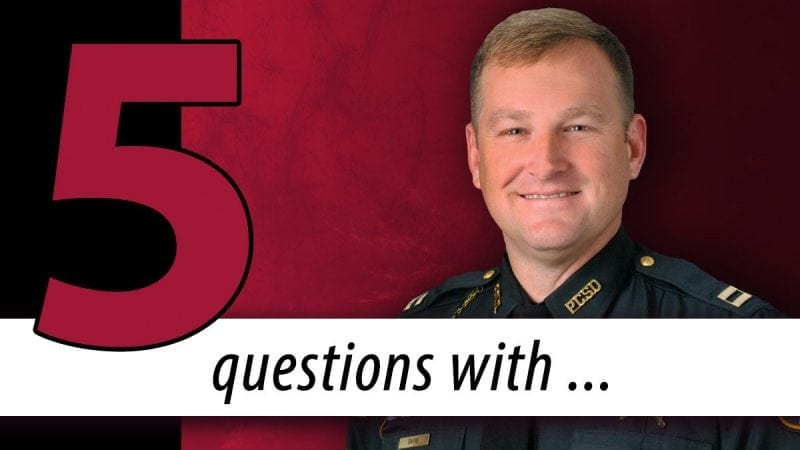 The Polk State Kenneth C. Thompson Institute of Public Safety (KCTIPS) has a new director and he has hit the ground running.
Polk County Sheriff's Office's Capt. Bart Davis was recently appointed to oversee the regional training academy, and his No. 1 goal is to see it grow while continuing to deliver professional training consistent with the industry's best practices.
"We are training the next generation of law enforcement officers who will protect us and our families," Capt. Davis said. "I'm excited about the opportunities to expand and enhance what KCTIPS has to offer."
Polk State News recently caught up with Capt. Davis amid his busy first month as director of the institute. He shared his passion for serving and protecting the community, and his goal to effectively train and educate the future of Polk County's law enforcement.
What inspired you to pursue a career in Criminal Justice?
At first, I was a Business major at Florida Southern College. I was taking Criminology as an elective and my instructor was Polk County Sheriff Grady Judd, who at that time was Col. Judd. He sold me on a career in law enforcement.
Listening to him speak about professionalism in the field and the ability to make a difference in the community showed me that I wanted to help and protect people. I have always had a desire to help people and, as a life-long resident of Lakeland, I have always had a strong sense of pride for our community. I realized I wanted to devote my career to maintaining the great quality of life we enjoy here in Polk County.
I changed my major, earned my bachelor's degree in Criminology, interned at the Sheriff's Office, and enrolled in Polk State's police academy. It has been my passion to serve this community ever since.
From there, you went on to work for the Polk County Sheriff's Office, where you have served for nearly 20 years, working your way up from patrol to captain. Why was the director's position at KCTIPS the next step in your career?
Retired Maj. Bill Mann, who served as KCTIPS director from 2010 to 2014, was a great mentor of mine. He taught me about leadership and management, and I have always looked up to him.
I started out in patrol and community-oriented policing, before I went on to become a detective in the major crimes unit, investigating robberies and homicides. I moved up the ranks, to sergeant and lieutenant, and in 2014 was assigned to the Safe Schools Division and as the Director of Safety and Security at Southeastern University.
I was promoted to captain in 2017, and it was an easy decision to seek the director's position at KCTIPS when the position became available. I wanted to build upon the strong foundation laid here by my predecessors.
What are some noteworthy moments from your first month on the job?
Interacting with the recruits. We have graduated three academies since assuming my position. They are the next generation of law enforcement – they will be protecting us and our families. The professionalism and integrity of the recruits here at KCTIPS is the most noteworthy thing.
What is your first goal as director of KCTIPS?
My first and biggest goal is to grow the program by offering more advanced and specialized courses. KCTIPS offered 10 academies in the 2017-2018 fiscal year with 32 advanced courses. I would like to offer a couple more academies, specifically bringing in Florida Department of Corrections academies. I'd also like to bring a nationally-recognized command school to KCTIPS that would market our school to law enforcement executives across the country.
What is your advice to students interested in pursuing careers in law enforcement?
My advice is for them to understand that a career in law enforcement is a long, sometimes difficult process that is well worth the sacrifices. I encourage them to chase their dreams and do what is right to make the community a better and safer place.