Polk PTA Alumnus Jorge Espinosa: Restoring Functionality and Hope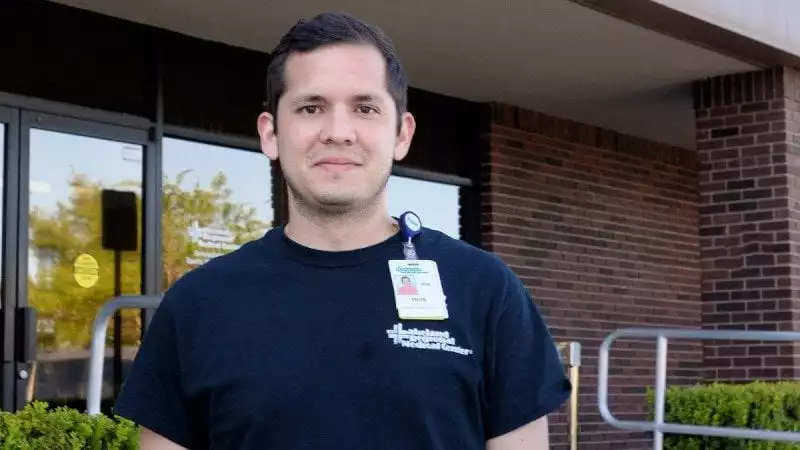 While studying at Polk State College, Jorge Espinosa learned all the textbook knowledge for his new career as a physical therapist assistant, but more importantly, he learned when to put his textbooks aside.
"I remember one of the instructors saying, 'This is not a black-and-white career. There is nothing set in stone,'" said Espinosa, who graduated with his associate's degree in Physical Therapist Assistant in 2013.
"We were encouraged to use our creativity to help our patients, because helping patients is all that matters."
Espinosa recently acted on that advice in his work at Lakeland Regional Medical Center's Rehabilitation and Sports Medicine Clinic. He had a patient with a spinal cord injury, who wasn't ready to perform a certain exercise while standing up. Instead, Espinosa got creative. With the patient lying on her side in bed, he pushed a table next to her, and had her slide her leg back and forth across its surface.
"She got very excited because she was getting tired," Espinosa said. "She was using her own strength to move her leg the way she wanted. It helped affirm for her that she could do it."
And right there is what Espinosa loves most about his career: He restores strength and mobility, yes, but also hope.
"It's like a motivational movie, when you're cheering for the underdog," he said. "Every day, I know I really did something for someone."
He got into the field because of his own experiences with physical therapy after he fractured his pelvis in high school, when he slipped in a puddle on a basketball court.
"I was a sophomore starter for my high school's soccer team. It was really hard to go from being an athlete in the middle of his best season, to having to use crutches," Espinosa said.
"But the personality of my therapist helped me get to that turning point. When you're injured, you need someone to uplift you and make you feel better again."
With the help of his physical therapist, Espinosa recovered from his pelvis injury, and he attended Florida Southern College on a soccer scholarship. But during the ninth game of his freshman season, he tore ligaments in his ankle. He couldn't play, his grades sank, and eventually he had to return to his hometown of Miami.
Back home, he went to work at an electronics store. He got licensed in massage therapy. He took classes at Miami Dade College and Barry University, with the idea that he would become an athletic trainer.
"I really wanted to help people in a physical way," he said.
He also wanted to return to Lakeland. One day, while visiting a friend in Lakeland, he curiously called up the Polk State website, read about the Physical Therapist Assistant program, and got right to work on submitting his application.
As he learned more about the program, particularly its high pass rates on the national licensure exam, and the fact that for more than two decades, 100 percent of licensed graduates from the program have been hired in the field within just months of graduation, Espinosa was even more certain this was the path for him.
Espinosa graduated in 2013, and like his fellow PTA program alumni, went right to work. Now, his typical workday begins with reviewing patient histories. Then he consults with his supervising physical therapist on treatment regimens for the patients. The next several hours fly by, with every moment spent guiding his patients through exercises and documenting their progress.
"It's about helping them to regain functionality so they can safely do all the things they did prior to their injury. If that's running, or just standing at the stove to cook, that's the point where we help the patients get back to," Espinosa said.
"My guideline in life is 'What man is a man who doesn't make the world better.' I feel like I'm making the world a little better with what I do."
 Physical therapist assistants work under the supervision of physical therapists, carrying out prescribed treatments to help injured patients relieve pain and restore function. In addition to the PTA Program, Polk State Health Sciences includes Cardiovascular Technology, Diagnostic Medical Sonography, Emergency Medical Services, Healthcare Administration, Medical Coding Specialist, Medical Records Transcriptionist, Nursing, Occupational Therapy Assistant, Radiography and Respiratory Care.
Polk State College's history is rich with stories of alumni who have gone on to make impacts, whether in the classrooms and laboratories of prestigious universities, the rough and tumble of commerce, or the halls of political power. Over the years, thousands of Polk State graduates have leveraged their education and experiences at Polk to transform their own lives and the lives of others. This transformation is the essence of what it means to "be Polk." Whether in big ways or small ways, Polk State alumni embrace the challenge of living lives that matter. News@polk regularly profiles these alumni. Their story is the story of Polk. They are The Pride of Polk.