Polk Volleyball Coaches, Players Visit South McKeel Academy During Career Week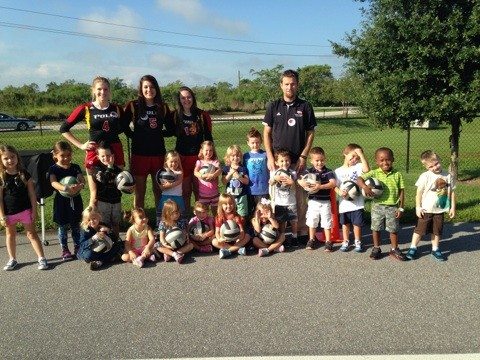 Polk State volleyball players and coaches recently participated in Career Week at Lakeland's South McKeel Academy.
Assistant coaches Ashley Hass and Chris Williams, along with players Laina Blanton and Elizabeth Garcia, made the visit in September.
"We went to a pre-K class and talked with the kids about being a college coach as well as being a college athlete and moving on to becoming a professional athlete," said Williams.
Then came the fun part. The kids got to go outside and take part in a mini-clinic.
"We first led them through a series of partner drills," said Williams. "Then Elizabeth and Laina demonstrated ball-handling techniques drills and went around to assist the pairs of students.
"The kids had a great time and responded really well to our players. At the end, we passed out our schedule photo cards, and the kids were asking the players where they were in the picture."