Show Your Polk Pride on College Colors Day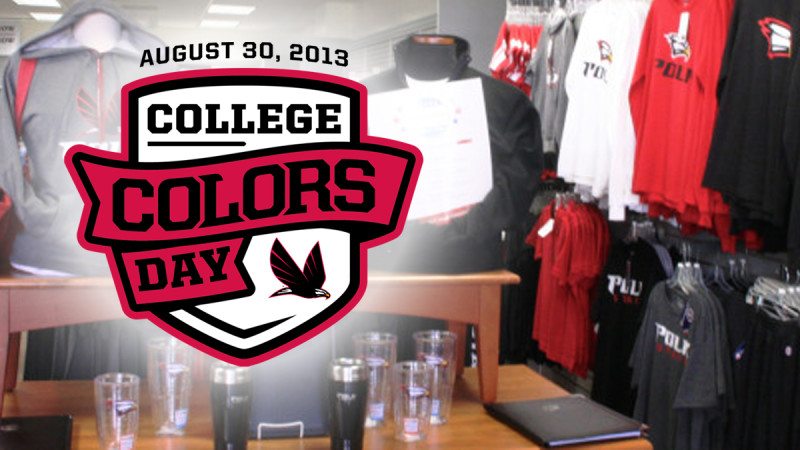 Polk State fans will join the country in a nationwide celebration of school spirit on Aug. 30, which has been designated as this year's College Colors Day.
The Collegiate Licensing Company invented College Colors Day in 2005 to celebrate the traditions and spirit of the college experience. Fans are encouraged to publicly display their school spirit by wearing the apparel of their favorite college or university.
Both Polk State bookstores are stocked with apparel — from hoodies to hats — for those who want to show their Eagle pride.
"We have a great selection of apparel to show your support," said Winter Haven bookstore manager Jennifer Henry.
Both the Lakeland and Winter Haven bookstores are offering red and black merchandise at a 10 percent discount through Friday, and inventory includes items for men, women and Eagles of all ages…including infants.
Athletic Director Bing Tyus said he's noticed a new energy among the Polk State fan base — both on campus and throughout the community, and he attributes the intensity to the Eagles' success.
He expects this year's College Colors Day to be especially Polktastic.
"The mascot and color switch in 2011 has been huge," he said. "College Colors Day gives everyone a chance to support the College. We are all proud of our colors now. I think the impact has been huge in the community and even statewide.
"College Colors Day gives us a chance to unite and all be Polk State."
Polk State's bookstores are open Monday through Thursday from 7:30 a.m. to 7:30 p.m. and Friday from 7:30 a.m. to 6 p.m. Polk State Winter Haven's bookstore is located in the Student Center; Polk State Lakeland's is located in LAC, adjacent to the Student Center.
Need extra incentive to show your Polk Pride? Send photos of yourself and friends sporting your red and black on Aug. 30 to Facebook.com/soareagles for a chance to win a prize.