Retired Police Chief Teaching at Polk, Aims to Make Students "A Cut Above the Rest"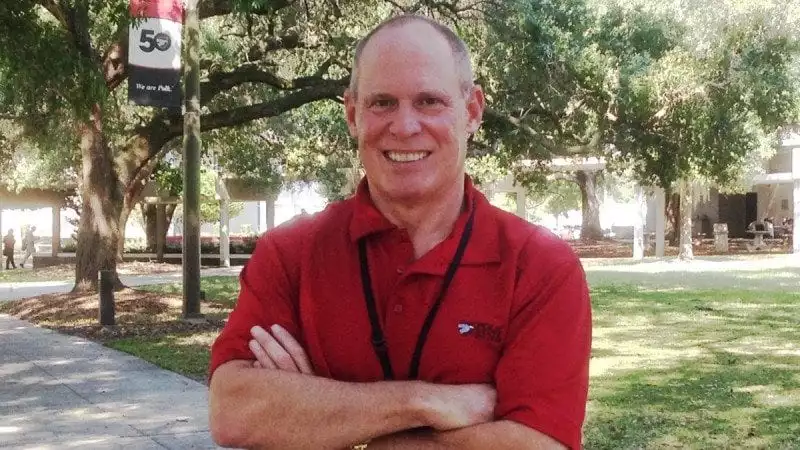 In his more than 30 years in law enforcement, Raymond Oberg saw many changes. Walkie-talkies and beepers gave way to smartphones. Fingerprinting went digital. With the rise of DNA technology, a single strand of hair could turn an entire case.
One thing that has remained constant through all these changes, Oberg said: highly educated law enforcement officers are simply more effective in the field.
Now, in his encore career as a Polk State College professor, Oberg is working to give criminal justice students the preparation they need to best serve their communities.
"When students graduate from this program, I want them to have a thorough understanding of the criminal justice system and how it operates. I want them to understand the importance of people skills and communication. Most of all, I want them to be a cut above the rest," he said.
A native of Massachusetts, Oberg's interest in public service emerged early, when he became a 16-year-old volunteer firefighter. When he headed off Bridgewater State University, however, he majored in geography and education, with the aim of becoming a teacher.
The summer before he graduated, however, he worked for the police department in Cape Cod, Mass., and he made up his mind to go into law enforcement.
"It's cliché, but I loved being able to help people," he said. "You get to help people on some of the worst days of their lives."
Oberg graduated and went to work for the police department in Taunton, Mass., a city of approximately 60,000 located 40 miles south of Boston. He started out as a patrolman, and even at that entry-level rank noticed differences between officers who had a college degree and those who didn't.
He recalled an arrest he made early in his career, during an outdoor festival. The suspect began screaming that the handcuffs were hurting his recently broken wrist. The more he yelled, the more the crowd took notice. Oberg could feel the tension building.
"He was inflaming the crowd. One of the other officers started arguing with him, saying that he was faking. It was like the officer had tunnel vision. He wasn't listening to the crowd. He was very, 'We're the police and you'll do what we say,'" Oberg said.
Oberg took a different tact.
"I made a very loud announcement to the crowd that we were going to loosen his cuffs, and then I asked the suspect, 'Is that better?' and he said it was," Oberg said.
The situation defused. Oberg and his partner got their suspect back to the station, where they learned the suspect did indeed have an injured wrist.
The difference in how he and his partner had approached the situation, Oberg concluded, came down to education. Oberg had a college degree. His partner did not.
In the years that followed, Oberg continued to add degrees to his resume. First a bachelor's degree in mechanical engineering, then a master's degree and, in 2012, a doctorate in criminal justice.
As he excelled in the classroom, Oberg also climbed the ranks at his department, ultimately being named chief in 2000. He oversaw 126 officers, and his conviction in the power of higher education deepened daily.  With higher education came better communication skills, and from communication skills came the ability to solve crimes.
"Even though we have a lot of new technology in law enforcement and corrections, this is still a people business," he said. "You need people to give you information."
After he retired from the force in 2009, Oberg pursued his original interest in teaching. In 2012, he joined Polk State as a professor of criminal justice.
Oberg currently teaches both online and hybrid courses for Polk State's Bachelor of Science in Criminal Justice program, including Survey of the Criminal Justice System, Ethical Dilemmas in Criminal Justice, Interviews and Interrogation, Law Enforcement and Corrections Administration, and Critical Issues for Criminal Justice Professionals.
In all of these classes, whether online or in the classroom, Oberg says he sees his students develop both maturity and open-mindedness as the semester progresses.
"We expose students to different ideas and theories. By doing that, we make the officers expand their worldviews," he said. "When they are out in the field, they will be working with a diverse group of people, who come from all kinds of different backgrounds. We live in a multicultural society, there's no denying that. College exposes you to different points of view, and helps you understand those that are different from your own."
Polk State Criminal Justice Program Director Chris Shea said Oberg brings just the mix of professional and educational credentials that the program looks for in its faculty:
"Ray's expansive knowledge in criminal justice is an asset to the Criminal Justice program. The ultimate goal of the program is to bridge the gap between the textbook material and real-world knowledge of the field of criminal justice. Because of Ray's vast experience in the field, he is able to relate the course material to real-world cases and scenarios."
Polk State College offers two online degrees in Criminal Justice, including the Associate in Arts in Criminal Justice Technology and Bachelor of Science in Criminal Justice. Polk State Public Safety also includes degrees and training in Emergency Medical Services and Fire Science Technology, and the CALEA with Excellence-accredited Polk State Kenneth C. Thompson Institute of Public Safety.