Report Shows Community College Degrees Pave Way to Later Success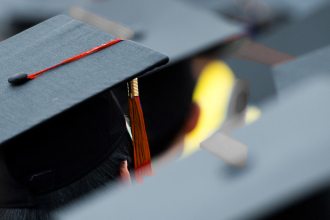 A recently released report offers new evidence of the advantages of studying at a community college, showing that those who earn an associate's degree from a two-year institution have greater success in completing their bachelor's degrees.
According to a report released earlier this month from the National Student Clearinghouse Research Center, 71 percent of students who first earned their associate's degree before transferring to a four-year institution earned a bachelor's degree within four years, with nearly 80 percent either graduated or still enrolled at a four-year college.
The Chronicle of Higher Education recently reported on the study and the importance of its findings.
Quoted in the Chronicle's piece was Carrie Kisker, director of the Center for the Study of Community Colleges, a nonprofit research and policy center in Los Angeles, who said the Research Center's report was significant for two reasons: "First, because it reinforces the importance of community colleges in increasing the number of bachelor's degrees in America; and second, because it clearly demonstrates that earning an associate's degree prior to transfer leads to greater baccalaureate attainment."
The Research Center studied students who transferred from two- to four-year institutions in the academic years 2005-06, 2006-07, and 2007-08. In each of those years, it found that about 60 percent of the students earned at least a bachelor's degree within four years of transferring, and another 12 percent of students were still enrolled in a four-year college but hadn't yet graduated.
For students who had completed their associate's degrees prior to transferring, the numbers improved significantly. The Research Center found that 71 percent of those students had earned a bachelor's degree within four years of transferring, and nearly 80 percent had graduated or were still enrolled.
Here in Florida, the State University System's 2010-11 Annual Accountability Report offers some closer-to-home perspective. That report shows that between 2003 and 2007, approximately 68 percent of students who had already earned an associate's degree graduated from a university within four years. For the same period, approximately 9 percent of transfer students were still enrolled.
No data is available to measure the success students from individual state and community colleges have in earning their bachelor's degrees. However, a report released earlier this year from the Florida College System showed Polk State leads the state in preparing students to succeed at the university level, with 88 percent of its transfer students earning a first-year grade-point average of 2.5 or higher.
Polk State President Eileen Holden said the College is unwavering in its commitment to student success — at the university level and beyond:
"Student success is at the center of everything we do, every decision we make. Equipping our students to succeed in our classrooms and long after they walk the commencement stage is the College's central, driving objective."