Public Safety Students Get Real-Life Lessons Thanks to Local Businesses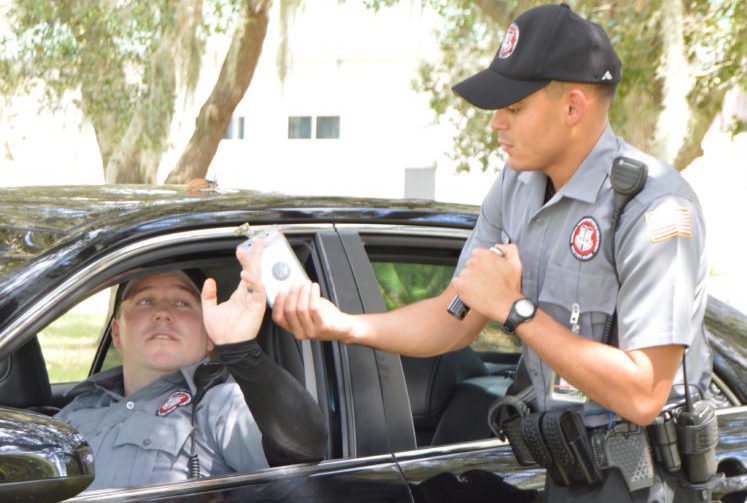 Polk State Kenneth C. Thompson Institute of Public Safety Law Enforcement Academy cadets participated one recent morning in traffic-stop simulations – lessons that are now more realistic thanks to some local donors.
Rick's Bar-B-Q  of Winter Haven donated a Chevy 3500 van, A&E Auto Body Inc. of Eagle Lake donated a Nissan Sentra and a truck bed, and Bolton's Towing Service of Winter Haven provided towing free-of-charge to get the vehicles to the Polk State Center for Public Safety for students to practice responding to scenarios they will encounter in their fields, such as traffic violations and car crashes.
"It's more realistic approaching an every-day vehicle rather than another police car because you can figure out where your blind spots are and where a possible weapon can be hidden," Academy Cadet Colt Black said.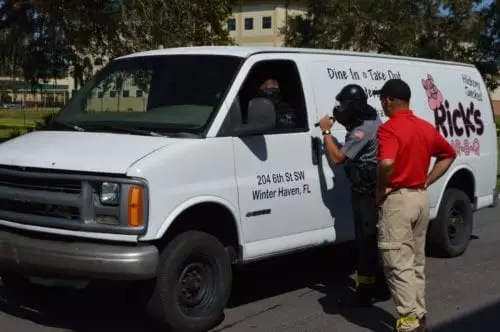 His peer, Russell Klingler, agreed. Both Klingler and Black are sponsored by the Lake Wales Police Department and are attending Polk State's Law Enforcement Academy on contract with the agency.
"In training videos we watched simulated traffic stops with two police vehicles, but in the real world it won't be a police car," Klingler said. "Approaching a van is scary – you can't see in and someone can hop out of the back. The van allows us to practice those different scenarios and teaches us to be alert to all of those possibilities."
The Nissan Sentra is also a good training tool, Black added, because it is a generic, common car that police officers encounter often.
The cadets participated in different scenarios with both vehicles, including traffic stops dealing with uncooperative drivers and drivers who have firearms.
Emergency Medical Services students will also use the vehicles to practice different life-saving techniques.
"These donations enable the EMS and Criminal Justice programs to enhance their training and bring more 'realism' to educating our students," EMS Program Director Don Guillette said.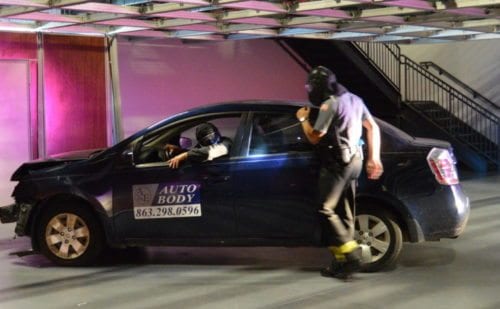 Guillette secured the donations by reaching out to his long-time friend Michael Arrington, who owns A&E Auto Body, as well as to Ricks Bar-B-Q when he saw that the  restaurant had a van for sale.
"I'm grateful to have friends who step up to not only help Polk State, but to also help the community at large," Guillette said. "Their donations have improved our ability to train the men and women who will be serving the public in medical services and law enforcement."