Program's all-time leading scorer Smith finds second home at Polk State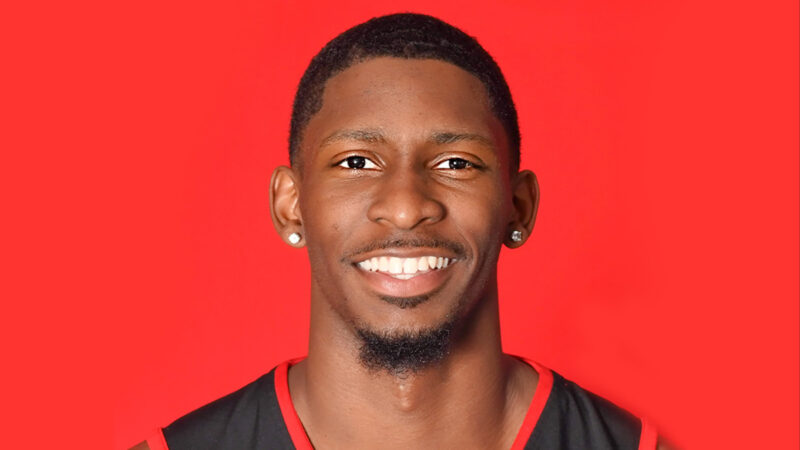 After a legendary Polk State Basketball career, Tekorian "TK" Smith now finds himself signed to play professionally overseas in Germany, but most of his offseason was spent at his junior college alma mater, giving private lessons and mentoring younger players.
Smith, 24, played at six different colleges, but his longest tenure was spent at Polk State. A two-time All-FCSAA selection, Smith left the program following the 2019-20 season as its all-time leading scorer.
"I get peace of mind here," Smith said. "I'm from Memphis – and not the nice part. What I want to accomplish doesn't align there. Back here I'm able to work with pros like Kevin Capers, Keon Clergeot, and Shawn Faust. I'm back around my guys and good basketball. They keep me motivated."
For Smith, there has been no shortage of adversity throughout his life or basketball career. Prior to his senior year of high school, Smith dealt with a heart condition that required a pericardial window – a surgical procedure that allows fluid to drain from the heart. For most of his college career, he's dealt with pain in his knee.
"Coming where he's from and going through what he's been through, a lot of people don't make it," Polk State Head Coach Brandon Giles said. "His work ethic was incredible. He'd ask for security to let him in at 10:00 at night, so he could shoot more on his own. He was always trying to do or be better. He was just a sponge for knowledge."
After winning a state championship as a junior at East Memphis High School and with a coaching staff that included former NBA All-Star Anfernee Hardaway, Smith moved to Texas for his senior year. He had just one scholarship offer and began his college career at Lincoln Memorial University in Harrogate, Tenn. After being academically redshirted, his head coach Jeremiah Samarrippas, a former standout player at Bartow High School, and his longtime teammate Nikc Merriweather told him about Polk State.
"Coming up, I never felt like I got the respect I wanted," Smith said. "When I first got to Polk, I remember sitting in my car thinking how I wanted to make history. I said I'm going to score 1,000 points and make my mark here. I wanted to turn nothing into something."
A legendary Polk State career
At Polk State, it didn't take long for Smith to make his presence felt. In his debut against Advance Prep Academy, Smith scored 30 points in an 82-74 victory.
As a freshman, Smith averaged 19.4 points and 1.2 steals per game. He shot 44% from the field, 39% from beyond the 3-point arc, and 77% from the foul line. Smith scored in double figures in 27 of his 30 games played, including a 43-point effort in a double-overtime loss to Hillsborough Community College.
After ranking third in the state in scoring and earning All-FCSAA honors, Smith was invited to the JA48 in Melbourne – one of the top junior college showcases in the country. Unfortunately, Smith injured his knee during the showcase. That injury would nag him for most of his remaining college career.
"From Memphis, we're tough," he said. "We're taught to play through the injuries, but I just made it worse."
Smith played through injury for most of his sophomore season. Despite that, he was again the leading scorer as the Eagles enjoyed their best season in four years.
"TK played a major role in our team's success," Giles said. "He could shoot the lights out from all areas on the floor. His ability to make tough shots stood out above the rest. Scouting reports focused on him. He did a great job reacting to that and still finding a way to produce."
For the second straight season, Smith ranked in the top five in the state in scoring and earned All-FCSAA honors. While earning his Associate in Arts degree, he broke Troy Simons' career scoring record at Polk State and helped the Eagles finish 21-10 and reach the championship game of the Suncoast Conference Tournament.
"To be the school's all-time leading scorer is still surreal," Smith said. "What stands out the most about my time here is how I found a way to make this my second home. I was sitting at a high school game one day and someone I didn't even know came up to me and told me that I was the reason he went to Polk State games."
Although Smith's 2019-20 team came up one win short of a berth in the FCSAA Tournament, Giles thinks the team paved the way for Polk State to become a winner once again. The following year, the Eagles earned their first appearance in the state tournament since 2016.
"The 2019-20 team infused the culture that (Assistant) Coach (Josh) Jackson and I were trying to foster," the head coach said. "I give that roster a ton of credit for what Polk State is and has become reputation-wise. It was a growth opportunity for me. When you have great players, it's on you as the head man to get them to share the same basketball."
Finding the right fit after Polk
While Smith excelled from the start at Polk State, finding the right fit afterward was no easy task. Early on during his sophomore season, Smith committed to Georgia Southern University under Head Coach Mark Byington. Following the season, however, Byington left to take over at James Madison University.
Smith had offers from other schools such as St. Bonaventure University, Southern Illinois University, Kent State University, and Missouri State University, but with the COVID-19 pandemic in its early stages, he was unable to take recruiting visits. Instead, he had to take his visits over Zoom.
"I was still hurting, so I had to try to find a program with the right resources to get me going again," Smith reflected. "I was going through a lot mentally because I had never been hurt before. Injury depression is a real thing, and it got the best of me."
Smith settled on Kent State in Ohio but took a redshirt after appearing in just three games. From there, Smith headed back south and spent his redshirt junior year at Troy University in Alabama.
During the 2021-22 season, the former Polk State standout helped the Trojans finish 22-10 and reach the College Basketball Invitational. Despite battling chronic patella tendinitis early on, Smith scored in double figures four times that season for Head Coach Scott Cross.
"We had a lot of success," he said. "I had some really good games and I finally felt better."
Smith earned his bachelor's degree in communications from Troy. While he was finally able to contribute at the NCAA Division I level, Smith wasn't sure that Troy's halfcourt style of offense was best suited for his skill set. With one year of eligibility remaining and finally healthy, Smith sought one last change of scenery.
"I wanted to go somewhere where I felt like I could spread my wings," Smith said. "Coach Cross was a great guy, and I learned a lot from him mentality-wise, but as a guard, I wanted to get up and down the court more."
Smith spent his final season at Prairie View A&M University in Houston and was the healthiest he had been since his knee injury. Smith played in 29 of the Panthers' 30 games, which included 24 starts. He averaged eight points per game – his highest total since leaving Polk State – including 24 points in a 67-59 loss to Alabama A&M University on Jan. 23.
"I started finding myself again around the energy there," Smith noted. "I was finally healthy. We had a lot of grad transfers and we fought hard to make the best of the situation."
Making his way back to Polk State
While Smith prepares to take the next step in his basketball career, he's used Polk State's facilities to continue to work on his game. He's also provided private lessons to about 15 local youth and high school players.
"I always had a knack for being a mentor and a positive influence," he said. "I've always tried to remain humble. Growing up, I always wanted someone genuine from where I was from to come back and work with me. I want to be remembered for more than what I did on the court but how I gave back."
In addition to his accolades as a basketball player and his efforts to work with the youth, Smith values the meaningful relationships he's made through Polk State. Smith often talks with local businessmen such as Terry Dewdney and KFC franchisee George Tinsley.
"Relationships are vital for the soul," Smith said. "When we talk about the riches in life, it really comes down to real, organic relationships where you find your fulfillment. I've been fortunate to be able to build these lifelong relationships through basketball."
Throughout the summer, Smith has also worked with current Polk State players. Having former players return, Giles said, shows that the program is making a difference.
"Having been able to coach the program's all-time leading scorer was very impactful for me," Giles said. "Any time you have former players want to come back and be around the program, it speaks to the culture and means the world to me. It also helps when you have athletes you're recruiting see former players come back to let them know what we're all about. We're raising players to be men – not just basketball players."
When basketball is ultimately said and done, Smith would like to be a businessman himself. Giles is also a business owner and founder of Brandon Giles Consulting. This offseason, Giles allowed Smith to shadow one of his partners in Boca Raton to learn more about what it takes to run a business.
"I see a lot of good in his future because of how his mind works," Giles noted. "He's always willing to work. I think we're at the start of something special."
Raised by a single mother, Smith was fortunate to have positive influences in life. His best friend since second grade and now an engineer, Tanoka Adams, was a constant source of motivation. Smith said his Polk State coaches also qualify.
"Coach Jackson and Coach Giles are like big brothers to me," he said. "Giles is one of the best players to come from this area and he really cares about each individual on the team. He loves his family and is just a great guy.
"Coach Jackson always wants what's best for you and challenges you to be better," Smith continued. "The way they fought for me made me want to fight for them. When you're around people like that, you want to play hard and do your best. They're the perfect duo."