Polk State's Voices of the People Concert Series Continues March 13, 14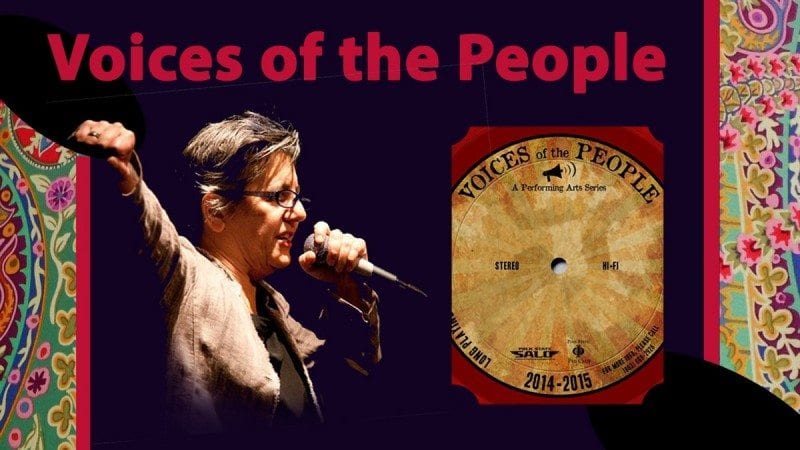 Polk State College's Voices of the People concert series continues its third season with two engagements this month.
The first event is an informal talk and small-scale performance scheduled for noon on March 13 at the Polk State Lake Wales Arts Center, 1099 State Road 60 East. This event is free.
The second event is stage performance scheduled for 7 p.m. on March 14 at the Polk State Winter Haven Fine Arts Theater, 999 Ave. H. N.E. This event is free for students with ID, but $5 for the general public.
Featured artists for both dates include composer Eve Beglarian. The Los Angeles Times has described Beglarian as a "humane, idealistic rebel and a musical sensualist." Beglarian recently won the 2015 Robert Rauschenberg Prize from the Foundation for Contemporary Arts. During her career, Belgarian has also been commissioned by the Los Angeles Master Chorale, the American Composers Orchestra, the Bang on a Can All-Stars, the Chamber Music Society of Lincoln Center, the California EAR Unit, the Orchestra of St. Luke's, Relâche, the Paul Dresher Ensemble, Sequitur, loadbang, the Guidonian Hand, Newspeak, the Ekmeles Vocal Ensemble and numerous individual performers.
Joining Beglarian at Polk will be Taylor Levine, a New York-based guitarist who founded and co-directs Dither, an electric guitar quartet. Levine studied at the Manhattan School of Music and the Amsterdam Conservatory, and has performed around the world.
Adding yet more depth to the Polk performances will be Mary Rowell, an innovative violinist who contributed to the Grammy-winning Tango Project. Rowell also works with the indie band The Silos and pop icon Joe Jackson, and has performed with the National Symphony, the Houston Symphony, the New York Chamber Orchestra, and the Warsaw Philharmonic. A graduate of The Juilliard School, she is also the concertmaster of the Radio City Music Hall Orchestra.
Polk State Humanities Professor Derek Menchan, also a noted cellist, will add his talents to the evening as well.
Voices of the People is a joint effort by College's Philosophy Club and SALO (Student Activities and Leadership Office) to offer classical music performances.
A variety of events and more than 50 student clubs and organizations are offered through Polk State College's SALO (Student Activities and Leadership Office).