Polk State's Crump Spreads Word About Aerospace at SUN 'n FUN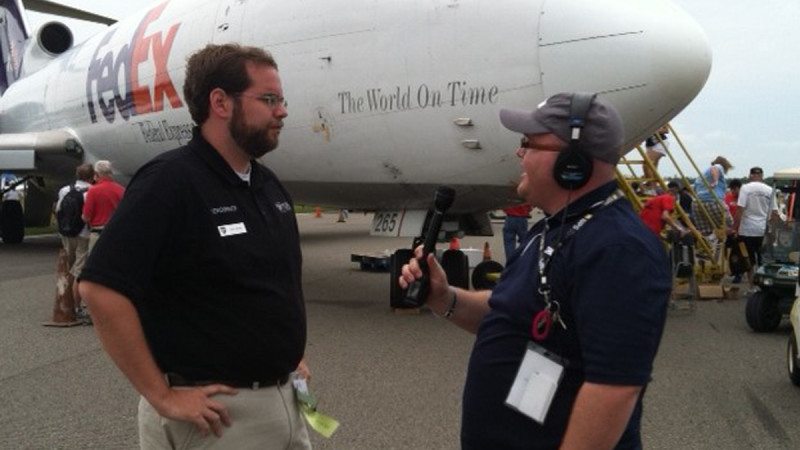 Polk State Aerospace Program Director Eric Crump presented to SUN 'n FUN Fly-In attendees on Wednesday, sharing his insight into improving pilot training.
The SUN 'n FUN Fly-In is taking place this week at Lakeland Linder Regional Airport. The second largest aviation event of its kind in the world, SUN 'n FUN draws nearly a quarter million visitors from all over the world.
Polk State College is this year sponsoring not only the event overall, but also more than 250 educational forums that are taking place at Central Florida Aerospace Academy. Forum topics run the aviation gamut, from flying internationally to buying an aircraft.
Crump lent his expertise to the forum schedule on Wednesday, with a presentation titled, "Better Pilot Training."
"Aviation as a whole can do a better job training pilots that it is doing, by using training models that actually work," Crump said.
Crump said one such effective training model is the use of flight simulators, which allow pilots to practice new maneuvers from the safety of the ground. Pilots have long trained by practicing maneuvers solely in the cockpit.
Polk State Aerospace, which launched in January, uses flight simulation technology to provide students with valuable on-the-ground practice.
"The cockpit is a terrible classroom. It's loud. It's hot. It's scary. By using a flight simulator, we immerse students in the operation of an aircraft but we remove that fear element," Crump said.
Crump also emphasized that student-pilots need to develop strong critical thinking skills so they will be able to face head-on the many unique situations they will encounter in the air. Student-pilots must also develop strong "stick and rudder skills," he said, so they can fly a plane without the assistance of autopilot technology.
"At the end of the day, no matter what gadgets are in the cockpit, it's just an airplane, and pilots need to know how to fly the plane," he said.
Among Crump's audience members was Cres Wise, a flight instructor in Warner Robins, Ga., who said he will use Crump as a future resource.
"We have to get our students to think about the 'why' — why they learn maneuvers. I liked what Eric had to say about critical thinking and will definitely be sending him an email," he said.
Crump's forum was just part of his busy week at SUN 'n FUN. He has also been interviewed about Polk State Aerospace by the Aircraft Owners and Pilots Association and the Florida Aviation Network, as well as local TV stations. He will also take part in a dedication ceremony for a retired Boeing 727 that FedEx donated to SUN 'n FUN; the plane will be used as an instructional tool by Polk State Aerospace.
Polk State College Aerospace launched in 2013 to meet the needs of local students seeking careers in the growing field of aviation. Through the program, students earn an associate's degree in Professional Pilot Science, preparing them to earn their commercial pilot certificates from the Federal Aviation Administration.