Polk State Well-Represented at Golden Garlands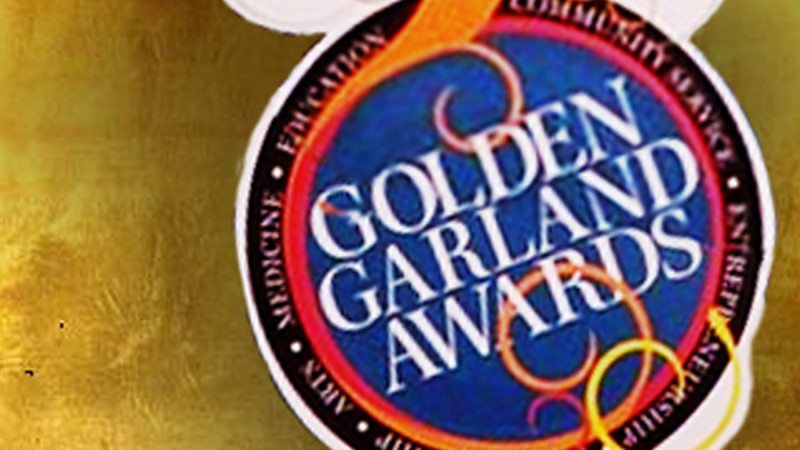 This week's Golden Garlands were presented by The Ledger, but they sure had a distinct Polk State flavor.
Among the recipients of the Golden Garlands, intended to recognize outstanding adults from sectors such as entrepreneurship and education, were a Polk State graduate and a world-renowned surgeon with College ties.
Paul Hughes took the Golden Garland in the Arts category for a career that he said has its roots at Polk State College.
Hughes, now a drama and acting teacher at All Saints Academy, graduated from Lakeland High School. The son of a factory worker and a homemaker, he had no choice but to stay home and choose the most affordable option for his higher education — what was then Polk Community College.
He came here to study music, but one day, in the cafeteria, a fellow student asked if he would be interested in auditioning for the College's production of "The Man Who Came to Dinner."
Hughes agreed. And his life was never the same.
"From the first moment of that play, I felt at home. It just felt right," Hughes said.
He changed his course, focusing all his attention on theatre, participating in productions of "Godspell," "Cabaret" and "The Drunkard," as well as a litany of reader's theatre performances before graduating from Polk in 1977.
He went on to study at the University of South Florida, but ultimately graduated years later from St. Leo University with a degree in theatre and an emphasis in directing.
Hughes has worked in practically every arts-related organization in the county, including Theatre Winter Haven and Lakeland Community Theatre. He also taught at Harrison School for the Visual and Performing Arts for 16 years before joining the faculty at All Saints.
Through the years, he's never forgotten all the lessons of those early theatre days at Polk. He's drawn on those experiences in teaching class after class of aspiring actors during his career.
"I didn't just act at Polk. We were putting on plays in the cafeteria. I had to learn to wire lights through the ceiling system and set up a stage —and I've done those same things many times in my career. I really got my foundation at Polk," he said.
The growth of Polk State Theatre — which now performs elaborate productions in the 500-seat Fine Arts Theatre — and the arts community in Polk County never ceases to amaze him.
"The arts scene here is extremely remarkable for the size of the community and the rural nature of the community — and most people don't realize it," he said.
Also honored during the Golden Garlands earlier this week was Winter Haven Hospital's Dr. Sijo Parekattil, winner in the Medicine category. Parekattil is a world-renowned robotic surgeon who also serves as director of Polk State's Robotic Surgery Credential Program.
The program, which offers formalized training for nurses and surgical technicians who participate in robot-assisted surgeries, is the first of its kind in the world; Polk State partnered with Winter Haven Hospital in developing the program.
Parekattil also teamed with the College for Scholarobotics, a program for high-school students that began this summer to introduce participants to robotic surgery.
Parekattil often speaks about the impact an early introduction to science had on his own career and his commitment to passing that inspiration on to today's students.
"I hope that I can help stimulate students to pursue a career in the sciences. There are a slew of possibilities out there," he said.
The Golden Garlands is an award program in its first year, modeled after The Ledger's prestigious Silver Garlands program, which honors excellence among area high school students. The Golden Garlands were presented Nov. 13 at Lakeland's Polk Theatre. In addition to winners Hughes and Parekattil, at least four other nominees had Polk State affiliations.