Polk State Volleyball Team's First Day in Wyoming Spent Practicing, Throwing Snowballs; Tournament Begins Today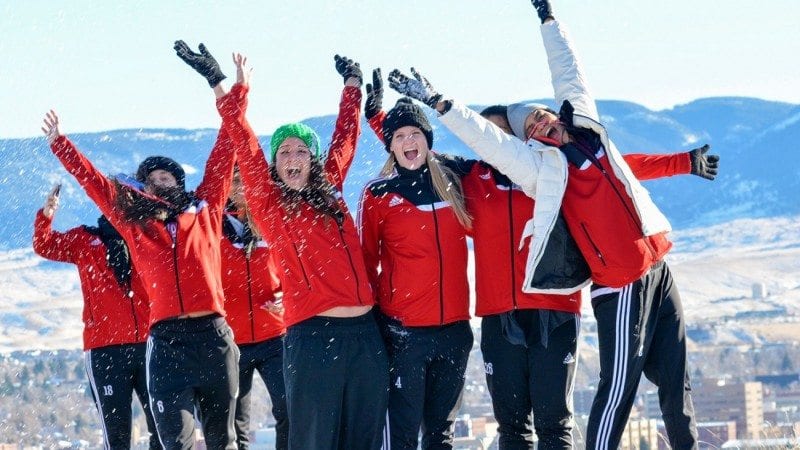 When they weren't studying or practicing, the Polk State volleyball team spent Wednesday hurling snowballs and building snowmen.
Oh, and there were a few antelope sightings mixed in there, too.
Antelope sightings? Sure thing, podner. This is Wyoming after all.
The Eagles arrived in Casper, Wyo., late Tuesday night to compete in the NJCAA Division I Volleyball National Championship. Wednesday was their first chance to take in the scenery.
Riding the bus to practice, players saw antelopes running wild in fields along the road. Several Eagles whipped out their cell phones and snapped photos through the bus window.
"The antelopes are really cute!" said Rossanna Ramos. "Wyoming is really beautiful. This is my first time here, and I'm so excited."
When they players entered the building for practice, they met Linda Fittje of their "host family." She welcomed them to Casper, presenting each player with a personalized goodie bag.
"As a host family, we're here to support the Polk State team as much as possible," she said. "We can make meal reservations, help them find attractions — do whatever they need."
Fittje, who has a 15-year-old daughter who plays volleyball, said, "Bring it on!" when tournament organizers asked for volunteers.
After lacing up their shoes and stepping onto the court, they players got down to business in an enthusiastic hourlong practice.
Afterward, they started toward the bus, but the snow proved too great a temptation. Within seconds, snowballs flew through the chilly air, with Head Coach German Del Valle and Assistant Coach Chris Williams getting the worst of it.
Back at the hotel, team members strolled to the banks of the North Platte River, where they admired its frozen beauty before taking a few minutes to build a miniature snowman.
That evening, players, coaches, and staff from the 16 teams enjoyed food and fellowship at a banquet.
Del Valle, also making his first trip to Wyoming, said, "The people here are real nice. This is a great opportunity for our players to see and experience different things. My mind is focused on the tournament now, but I think I'll appreciate the whole experience more afterward."
The Eagles begin tournament play Thursday against Miami Dade College at 5 p.m. Eastern time. All games will be broadcast live on NJCAA TV. Regular updates will also be posted to facebook.com/soareagles and via Twitter, @Polk_Athletics.