Polk State Theatre presents Love Letters and free tickets for rest of the season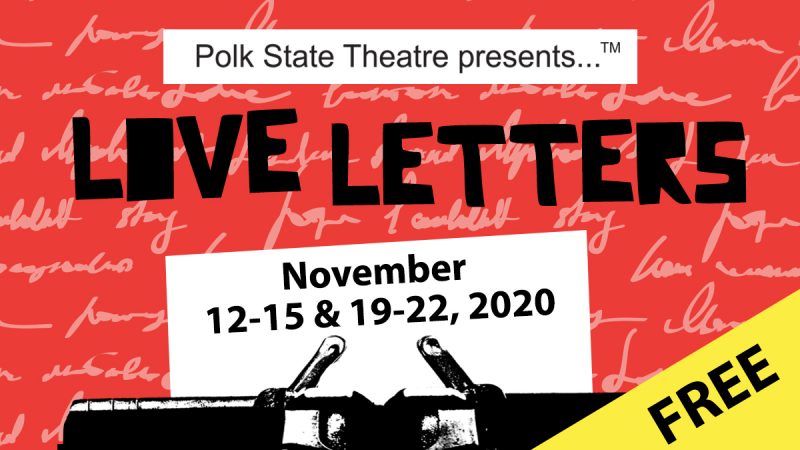 Polk State Theatre's production of "Love Letters" will open November 12 and debut a new offer – free tickets for theatregoers through the rest of the 2020-2021 season.
"Love Letters" written by A.R. Gurney and directed by Polk State Theatre Director Mark Hartfield will have performances November 12 – 15 and 19 – 22 at the Polk State Winter Haven Fine Arts Theatre, 999 Ave. H N.E. Curtain time is 7:30 p.m. except for 2:30 p.m. Sunday matinees.
While shows are free, reservations are necessary to allow for seating accommodations that meet Centers for Disease Control (CDC) guidelines and requirements of the College's Return to Campus Plan. Seats can be booked by calling 863.297.1050.
"We present free tickets as a gift to the community during this difficult year and encourage everyone to partake in the entertainment and relief provided through theatre," Hartfield said.
The Polk State Theatre will be accepting donations at the box office.
"Love Letters" follows two childhood friends and their lifelong correspondence, from birthday cards and thank-you notes, to letters that span half a century as they go on to live separate, but spiritually connected lives.
The two-actor play will be performed by three pairs of actors performing the show in rotation throughout the run.
Audiences should note that "Love Letters" is recommended for mature audiences due to subject matter and language.
Prior to coming to campus, students, faculty, staff, and community members should also review Be the Solution: Polk State College's Return to Campus Plan. The College remains in Phase II which requires everyone on campus to wear cloth face coverings and practice social distancing.