Polk State supports aviation education for kids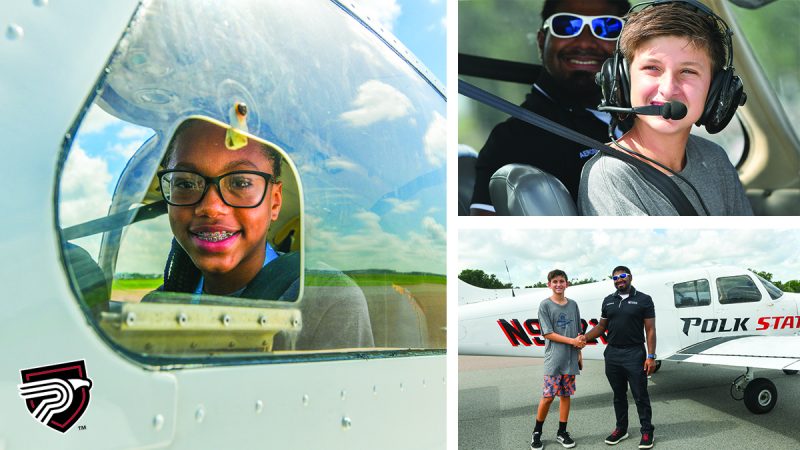 Polk State Aerospace Director Eric Crump explained the joy he experienced at last week's Destination Aviation Summer Camp at the Aerospace Center for Excellence on the Sun 'n Fun campus in Lakeland.
"It is incredibly rewarding to watch these kids get out of the airplane with that huge smile on their face. I know exactly what that feels like. I used to be one of them," Crump said.
During the weeklong camp, 21 kids ages 11 to 18 enjoyed hands-on aerospace activities, meteorology, aircraft restoration projects, ground school, field trips, and flight. The camp starts with a basic understanding of the aerospace industry and then moves toward a more in-depth and focused experience.
Polk State plays a part by making its Piper Cadet single-engine planes available during the camp.
"Because a first flight for any young boy or girl is crucial to igniting the spark of interest in aviation, we purposely made it an important part of our Aviation Summer Camp syllabus to ensure the most positive and professional experience possible," said John Leenhouts, President & CEO of the Aerospace Center for Excellence.
Many of the campers experienced actually flying a plane for the first time when they took the controls with either Eleazar Horta or Safat Osmani, both graduates of the Polk State Aerospace Program.
"Events like this are important because of the audience," said Crump, explaining why Polk State supports the camp. "Having the opportunity to present aviation to young people is important to growing our future workforce, but actually letting these young people get in the airplane and fly it themselves is a huge confidence boost. It shows them they can really do this."
"I started flying when I was 13," he added. "I had a great group of mentor pilots who surrounded me and helped me pursue the awesome aviation career I've enjoyed. This is an opportunity for us to work very closely with our training partners at Sunrise Aviation and the Aerospace Center for Excellence to really move the needle on attracting the next generation of aviation professionals."
And Quintin Hopkins, 11, aims to join that next generation.
"I knew this camp would interest him because he wants a career as a commercial pilot," said his mother, Shelby Hopkins
"He's really into it. He loves flying, he's very knowledgeable about commercial airlines, and he knows a lot about military planes," she shared. "We travel the nation and have been to a ton of airshows and air museums. He has really enjoyed this camp."