Polk State students and faculty: Math courses online? You've got this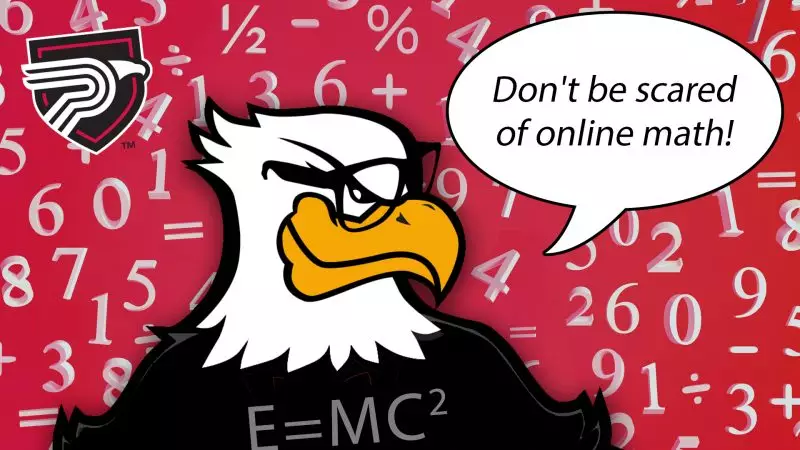 As Polk State College prepares for the Fall 2020 Semester, which starts on August 17, students and faculty alike are sharing support, resources, and some words of encouragement to dispel fear about taking classes online.
The majority of classes will remain online for the fall, and Polk State offers a variety of options in the online environment, with faculty continuing to work diligently to provide an exceptional level of instruction and similar class experiences virtually.
Through Canvas, the College's online course delivery system, classes can take place in real-time where students and instructors meet in a virtual space, or on the student's schedule with self-guided lessons, pre-recorded video content, and more.
The online environment can seem intimidating and throwing math into the mix could cause anxiety for some students. But faculty and students who have been successful in math online share that the support and resources are in place to provide the instruction and extra help students may need.
"Students should not give up on math," student Michelle Williams said. "The more you try, the more you will understand it."
Williams took Developmental Math II and Intermediate Algebra online and praised Professor of Mathematics Bonny Hardesty for making the class enjoyable and low stress, especially in the online environment, she said.
"Professor Hardesty provided everything we could use as learning resources, including notes in a variety of formats such as PDFs, printables, and videos," Williams explained. "Professor Hardesty gives her students time to study and enough mathematical problems to practice until we have learned how to solve each problem. She is also easy to reach when you have questions and she is very understanding."
Polk State's faculty remain flexible with students and have taken their input in developing their online courses. Professor of Mathematics Gregory Toole, for example, will offer his Intermediate Algebra, College Algebra, and Calculus I courses in an asynchronous format that allows students to access lessons and complete assignments on their own schedules.
"My students have told me that this format meshes well with their work and family schedules," Toole said. This is critical as 74 percent of Polk State's students attend college part-time.
When signing up for courses in Passport, students should check the course notes to ensure that they understand the course format and how online instruction will take place.
In addition to resources available at the College level, professors have integrated tools into their online classes for students to easily access during lessons and while completing coursework. Toole's classes integrate MyMathLab or WebAssign for homework, quizzes, and tests.
"These programs have built-in resources that walk students through an example if they get stuck during their homework," he explained. "They also have a button on every homework example that lets students email me the exact math problem they are working on so they can ask me for help."
Additionally, professors are communicating regularly and maintaining flexible work hours to ensure they are available to help students when they need it. Toole has created a Google Voice number for students to text questions in addition to email and the tools available within MyMathLab and WebAssign.
"Don't be shy about asking your professor for help; that's what we're here for," he said. "Don't be afraid to ask your professor for an extension if you miss a due date; we are all facing these unusual circumstances together and being flexible to adapt to students' needs is key."
He also encourages students to keep up with their coursework and due dates, "so you don't dig a hole for yourself," he added.
Williams provided similar advice for her peers.
"Even though there is COVID-19, and I know it has affected our daily lives, I still manage to try to enjoy my classes and my life," she shared. "Be positive, because thinking negatively will never help you, and do not take shortcuts."
"Avoid using math apps that will help you with your homework but will help you fail your exams. The resources that I use are my professor's lectures, YouTube videos, and Google. I am thankful that we have many resources that we can use nowadays. The internet is big, so use it wisely," Williams added. "The key is, I set my mind to focus and not think that it is hard. As soon as I understand the problem, all I want to do is solve it."
"It feels great getting the correct answer! That's the most enjoyable part."