Polk State Student Speaks at Winter Haven Chamber Education Breakfast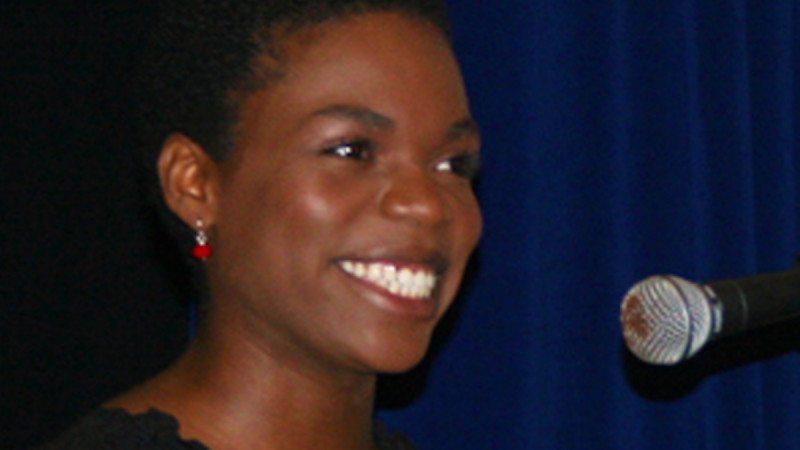 Polk State student Gina-Lou McKinney was a guest speaker at the Greater Winter Haven Chamber of Commerce's Focus on Education Breakfast on Wednesday, where she shared her passion for mentoring children.
McKinney, 20, followed fellow speakers Polk County Public Schools Interim Superintendent John Stewart and Douglas Lockwood, president of the Public Education Partnership of Winter Haven, Inc., during the event at downtown Winter Haven's Ritz Theatre.
During her address to the approximately 100 attendees, McKinney described her immigration from Haiti and her abusive childhood, all of which culminated in her being legally adopted by a former teacher and becoming a student at Polk State College.
McKinney, a member of Americorps and the College's Eagleteers, established a mentoring program at Haines City's Boone Middle School.
"At first, when I asked these students what they were into, they just said, 'sleeping,' or 'hanging with my buddies,'" McKinney said. "It was very hard. I couldn't get through that first layer."
Over time, however, she had the breakthrough she'd hoped with the students.
"They started bringing me their homework, and asking if I wanted to come to class to see them do their projects, or if I wanted to eat lunch with them," McKinney said.
"That was progress. Relationships began to form."
Over time, McKinney's program has grown, and she now has seven other Polk State students helping her mentor children at various schools in Polk County.
McKinney encouraged members of the audience, comprised of business, community and education leaders, to reach out to the county's youth as well, be it through gifts of time, money, or other resources. By doing so, they will make a life-altering positive impact in the lives of students.
"I've been mentored and I've been tutored. I know what a difference that makes," McKinney said, adding that her pursuit of a college degree wouldn't be possible if it weren't for the financial support she's received from the community through the Polk State College Foundation.
McKinney received a standing ovation after her comments at the breakfast.
Chamber Executive Director Bob Gernert was among those who expressed his appreciation to McKinney for sharing her story.
"Gina, you are absolutely inspiring," he said
Polk State Winter Haven Provost Sharon Miller added closing remarks to the breakfast. She encouraged attendees to be "bridge builders" for students, helping them succeed in their educational pursuits.