Polk State MLK Dream the Dream scholarship recipient honors Haitian heritage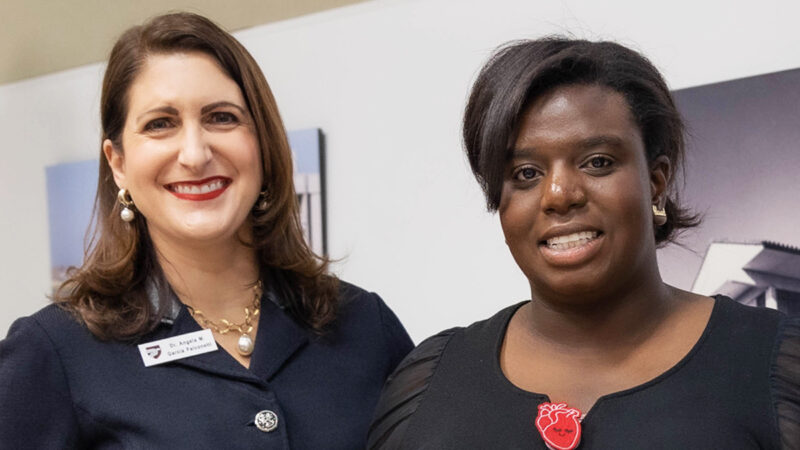 Polk State student Brandy Shivler inspired during the College's Dr. Martin Luther King, Jr.  Celebration as she accepted the Dream the Dream scholarship. She expressed pride for her Haitian heritage and gratitude for her parents, with her award-winning essay titled "My Haitian Heroes" in their honor.
"Growing up, I always saw my parents working hard. I was in elementary school, and I saw my mom coming home from [the] morning shift and my dad working the night shift. I never really understood why they had to do that," she wrote. "I am now old enough to know that they did that for me and my sister because they couldn't afford childcare. We had cars and a roof over our heads, and we were happy."
Dream the Dream Scholarship applicants must have an overall college grade-point average of 3.0 or greater and submit an essay about how a scholarship will help them achieve their educational and career goals. Recipients receive up to $500.
Shivler, an aspiring nurse and the first generation in her family to attend college, shared her realizations.
"I am now a young adult going to college [to] make my parents proud," she said. "I keep thinking about how my parents did it; how they were able to get a house and vehicle in their 20s, and myself, I am barely making it under my in-laws' roof."
Shivler's parents emigrated from Haiti when they were 16. Despite a language barrier, "that didn't stop them from making their American dream come true."
"I want to be like my mom. She inspires me to be a better woman every day," she said. "I want my children to look up to me and say, 'Wow, my mom really did that.' I want to graduate college and be financially independent."
The Polk State College Foundation's generous donors who make the Dream the Dream scholarship possible contribute to the success of students like Shivler. The scholarship is awarded annually during the Office of Equity, Diversity, and Inclusion's MLK Celebration, which honors Dr. King's work to empower individuals, strengthen communities, bridge barriers, and create solutions to social problems.
Donations in support of this scholarship and others can be made online at foundation.polk.edu.