Polk State Lakeland Philosophy Club Announces Fall Events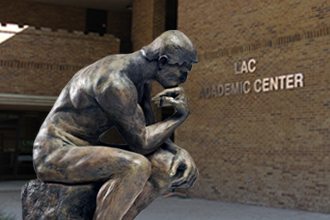 Nothing is ever off-limits for discussion within Polk State's Philosophy Club, a tenet the Lakeland chapter is proving yet again with a slate of upcoming events that ranges from Soviet poetry to superheroes.
The Lakeland chapter is beginning its fourth year at the College. The group fills each semester with events featuring guest speakers and special performances, with an eye toward engaging the public's imagination.
"Our event seasons are pretty innovative and envelope-pushing, and this one stands to be just as much so," said Professor Derek Menchan, adviser of the Lakeland chapter.
The Club's Winter Haven chapter, which formed in fall 2011, has not organized an event schedule for the fall semester.
The Lakeland chapter's fall semester events begin with its first "Superhero Symposium" on Sept. 4 from 3-5 p.m. in room LLC 2188 on the Lakeland campus.
The Club then turns its attention to a roundtable discussion titled, "Do Multiculturalism and Diversity Matter in the Humanities and Philosophy?" on Oct. 9 from 3 to 5 p.m. in room LLC 2188.
"This is going to be a broad conversation on multiculturalism and diversity that will appeal to many people. There will be something for everyone and anybody can contribute to the discussion," said Vice President Orlando Murray.
Next up is "An Affair for the Common Man: Music by Shostakovic, Poetry by Solzhenitsyn, and More," at 7 p.m. on Nov. 28 at the Winter Haven Fine Arts Theatre.
Menchan, a cellist, Laurent Boukobza, a pianist and chair of the Piano Department at the University of Central Florida, and Francisco Salazar, a New York-based violinist who has toured several continents, will perform, and students will give readings. Both Shostakovic and Solzhenitsyn were artists who persisted in the face of Soviet communism.
Josh Claesson, president of the group, said the event is intended to illuminate the power of creativity to thrive in the direst of circumstances.
"I hope our audience finds inspiration from these artists and what they were able to achieve in adversity," he said.
The Club will welcome back a regular guest to its events for the third-annual "Satsang for Vijay Sagramsingh" on Dec. 6 from 3-5 p.m. in room 1243 of the Lakeland Student Center.  Sagramsingh is a well-traveled lecturer on Indian philosophy.
During this year's satsang, an Indian style of intimate readings and discussions, Sagramsingh will explore a Hindu deity named Hanuman, worshiped as a symbol of strength, perseverance and devotion.
"If anyone likes Michael Bay movies or stories, the tale of Hanuman is much more action-filled and would lend itself well in science-fiction treatment," Menchan said, referring to the producer behind movies such as "Transformers" and "Armageddon."
"I have heard Vijay hold forth on Hanuman several times in the last six years, and it brings tears to my eyes. Hanuman is a phenomenal character, and Vijay will share with us westerners who he is and why he is important to Hindu culture."
The club's semester will end with one of Menchan's regular lectures, this one titled "Honorific Titles in the African-American Community: Can We Have Another Shaman?"
During the lecture, Menchan will discuss honorific titles such as "Dr." or "Professor," which are used to show respect to individuals who haven't earned certain academic degrees. From there he'll transition to the concept of shamans — a term for a religious leader — and why it would benefit the African-American community.
"Honorific titles are given to raise the morale of a culture that has experienced ill treatment in America for hundreds of years," Menchan said.
"The idea of the shaman is one who combines, into one persona, the responsibility of spiritual leader, healer and teacher…A shaman is a magician, and the plight of the African-American society is such that no less than magic is needed. Hence, we need a new shaman, and he or she can rightfully be called doctor or professor — their class, their elixir, is the stuff of the survival of a people and their sense of themselves," Menchan said.
The lecture is planned for 3 to 5 p.m. on Dec. 11 at the Coleman-Bush Building in Lakeland.
All events are free to attend and open to the public with the exception of "An Affair for the Common Man," which is $5 without a Polk State ID.
For more information on the Lakeland Philosophy Club, call Menchan at 863.669.2928.