Polk State to Honor Winter Haven Business Owner, Activist Twanna Dewdney as Distinguished Alumna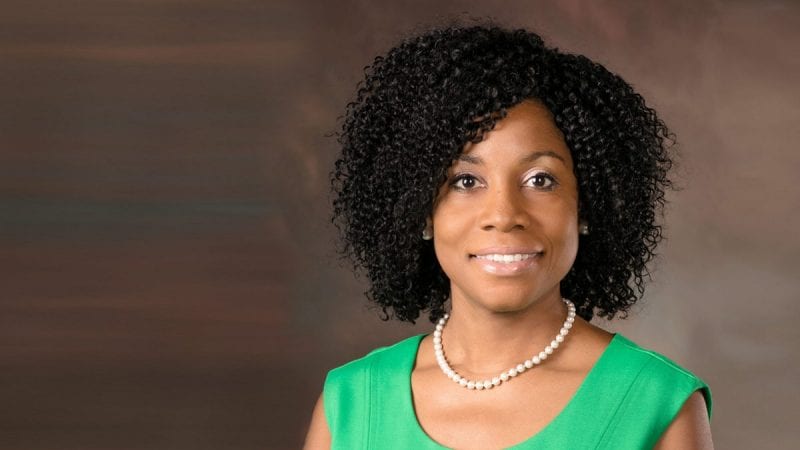 Business owner and community activist Twanna Dewdney will receive Polk State College's Distinguished Alumnus Award at fall commencement on Dec. 14.
"I don't care how much a person says they don't need recognition for the things they do, it feels good to be honored and recognized," Dewdney said. "By choosing me, it helps our communities to understand the positive impact that one person can have on a city. It's also encouraging to receive this award as I strive to create and implement successful projects year after year. I am blessed and grateful."
That she will be honored as a Polk State alumna is all the sweeter for how impossible college once seemed for her, Dewdney said.
A native of Winter Haven, Dewdney graduated from Winter Haven High School and received an athletic scholarship to attend what was then Polk Community College. She enrolled, but soon found herself veering off course.
"I think I was angry," Dewdney said in an interview with Polk State in 2014. "I had a family that cared and provided for me, but I made that choice to act out and get into trouble."
A search for Dewdney's name on the Polk County Sheriff's Office website returns a disorderly conduct arrest in 2001, but she says there is a lot more in her past, including drug trafficking and assault.
Before she could graduate with her Associate in Arts degree, Dewdney dropped out of college. She went to work at a department store, then bounced from job to job, but with no college education and a criminal record, her opportunities were limited.
Then, in the early 1990s, a temporary job as a receptionist at a trucking company became a permanent position, and it came with a schedule that allowed her to complete cosmetology courses at Ridge Technical College.
In 1994, Dewdney, who'd been doing hair in her mother's kitchen as a way of making extra money, graduated from Ridge as a licensed cosmetologist. Ten years later, she opened her own salon in Florence Villa. She named it Salon Ashanti, after her daughter.
Since the day she opened her business, however, Dewdney has used it for much more than just hair and nails. In the 1980s, Dewdney's cousin went to California for treatment for AIDS. Members of her family didn't understand the disease, and they were afraid to be near him. Her cousin died alone.
Dewdney has never forgotten how lonely her cousin must have felt, which is why, in his honor, she uses her salon as a site for HIV/AIDS testing. Dewdney administers about a dozen tests a month.
"My salon is a place of refuge, where people can come for help, or when they need someone to talk to," Dewdney said. "I thought all I was going to do here was hair, but I'm doing so much more."
From her salon, Dewdney also conducts her Project Park Bench, which collects blankets and clothing to be donated to The Mission of Winter Haven and distributed to the homeless. The 2016 Project Park Bench is currently underway. Donations may be dropped off to Salon Ashanti at 128 Palmetto Ave. NW in Winter Haven.
Throughout the year, Dewdney also gives out free condoms and collects school supplies for needy children and hygiene items for female inmates.
A few years ago, Dewdney returned to Polk State to complete her Associate in Arts degree as well as her Bachelor of Applied Science in Supervision and Management. She is the first graduate of Polk State's baccalaureate degrees to receive the Distinguished Alumnus award.
During her remarks at the fall commencement, Dewdney said she will encourage the graduates to live purposely and with confidence in their own potential.
"Once you believe in yourself, eliminate doubters, associate yourself with positive people and push past your fears, you can achieve more than you ever dreamed or imagined," she said.
Polk State's fall commencement ceremony will take place at 6:30 p.m. on Dec. 14 at The Lakeland Center, 701 W. Lime St.