Polk State Faculty Art Show: Showcasing the Breadth of Faculty Talent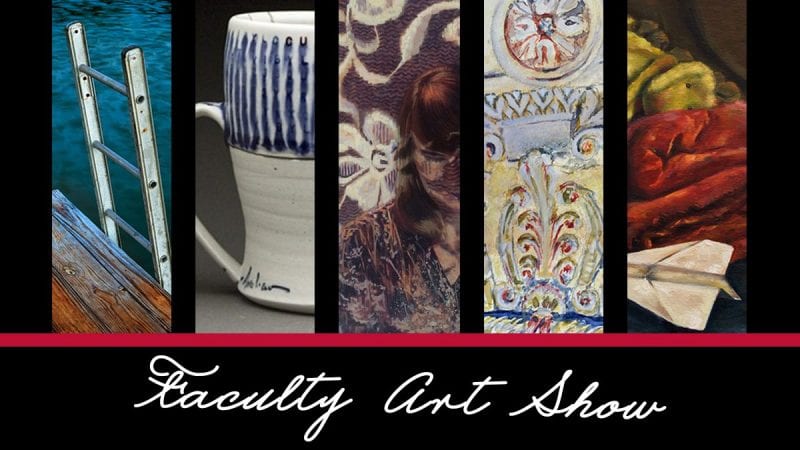 Painted works, mixed media, sculptures, photographs, ceramics, drawings, and a variety of other artistic displays have filled the Winter Haven Campus Fine Arts Gallery for the Polk State College Faculty Art Show. An annual event, the exhibition features recent work by current faculty members.
Those participating in the Faculty Art Show are working artists, teachers, and mentors for Polk State's students. This exhibition highlights the extraordinary talent and broad scope of achievement within the department. The exhibition displays the use of a vast range of materials for expression. The Art faculty members have an expansive skillset that covers all artistic disciplines. With eight full-time faculty teaching more than 30 courses a semester, the Art Department enables students to flourish through an expansive range of coursework. Along with providing classes in the tangible arts, Polk State's Art History professors are also practicing, professional artists. The Faculty Art Show is a premier event showcasing the breadth of talent and the incredible professional work accomplished outside the classroom.
A highlight of the 2017 exhibit is a 12-foot cut-paper installation by Professor Kristina Stafford. The piece features a bright background with delicate paper scrolls folding across the surface of the wall. Hidden beneath the shapes are subtle messages that can be observed throughout the work.
"I haven't made a large installation in a while and I knew the Winter Haven Gallery would provide me with the space I needed," said Stafford. "My artistic process involves a slow rotation of looking, making, and finally decorating. I wanted this installation to be more than just pretty – I wanted it to provide support – maybe make someone feel brave – without hitting you over the head with it."
New faculty member Zach McGhin will also exhibit his artwork, which includes playful, but dark, still-life paintings. McGhin joined the College this semester to teach portrait studies and drawing.
The full scope of work includes the following artists and their work:
Pavel Amromin                                   Sculpture
Gabriel Fenmoore Anderson        Mixed Media
Zack McGhin                                        Painting
Andrew Coombs                                Ceramics and Sculpture
Kristina Stafford                                Design
Holly Scoggins                                    Painting
David Woods                                       Photography
Anne Rosenvald Moore                  Drawing and Sculpture
Katherine Gallagher                        Printmaking
The exhibit runs from February 20 through March 31, Monday through Thursday, from 10 a.m. to 2 p.m. at the Polk State Winter Haven Fine Arts Gallery, 999 Avenue H, NE. Several of the pieces shown are available for purchase.